EDIT MAIN
KELLEY HILL & MICHAEL BIRD, DIRECTORS
Directors:
Kelley Hill, Choral Director
334-283-3689
Michael Bird, Choral Director & Assistant Band Director
334-283-3689
---
The Tallassee High School Choral Department has been around for most of the school's existence. The music department began in earnest around 1938, when Mr. William Armagast, a Troy University graduate who was teaching agriculture at THS, started teaching music classes.
The Glee Club, directed by former band director Ed Watkins and later administrator James Bush, was active through the 1960s and 1970s, including a mid-1970s period in which Jerry Cunningham was a student in the chorus. He, along with three others, comprised the first championship FFA Quartet in 1976.
In 1997, "Mr. C" returned to Tallassee High School as a teacher and built the choral program from the ground up after several years of choral inactivity at THS. The show choir program at Tallassee was created in 1997. In 1998 Mr. Cunningham's students were among those selected for the very first All-State Show Choir, and here at home he began New Image, the first show choir at THS. Later, New Image was joined by Divas (advanced ladies' show choir), Gold Edition (mens' show choir), and Voltage (advanced mixed show choir) in addition to the Concert Choir and Chamber Choir ensembles. Divas and Gold Edition became well-known throughout the Southeast for their high-energy competition performances.
Mr. C tirelessly recruited, encouraged, planned, built, and taught at Tallassee until his "retirement" from day-to-day classes in 2016. By then, a program with only a handful of students regularly had between 200 and 250 students enrolled each year, involved in stage musicals, individual and statewide honors, and performances in every aspect of community life.
Students from THS participate in All-State Choir; honor choirs at various colleges across the state; and our groups have participated in show choir competitions in Indiana, Georgia, New York, Florida, Illinois, Tennessee, Mississippi, and nearly everywhere in between.
Over the years, Mr. Cunningham has had assistant choral directors in Mary Cross; Anita Roberson; Millicent Bevis; Amy Henderson; Adam Moxley; and Jessica Head.
Amanda Anderson served as choral director from 2017-19; Kelley Hill has been the director since 2019.
Kelley Melton Hill is a graduate of Jefferson Davis High School and the University of Montevallo. She taught at Chisholm Elementary, Brewbaker Jr. High School, and then spent 18 years at her alma mater, Jeff Davis, before coming to Tallassee in 2019. Mrs. Hill teaches Women's Choir and Chamber Choir at THS.
Michael Bird is a graduate of Robert E. Lee High School and Troy University. He taught at Frisco City High School, Zion Chapel High School, and his alma mater Lee High School before coming to Tallassee in 2005. He teaches Men's Choir, Arts Survey, and Jazz Band at THS.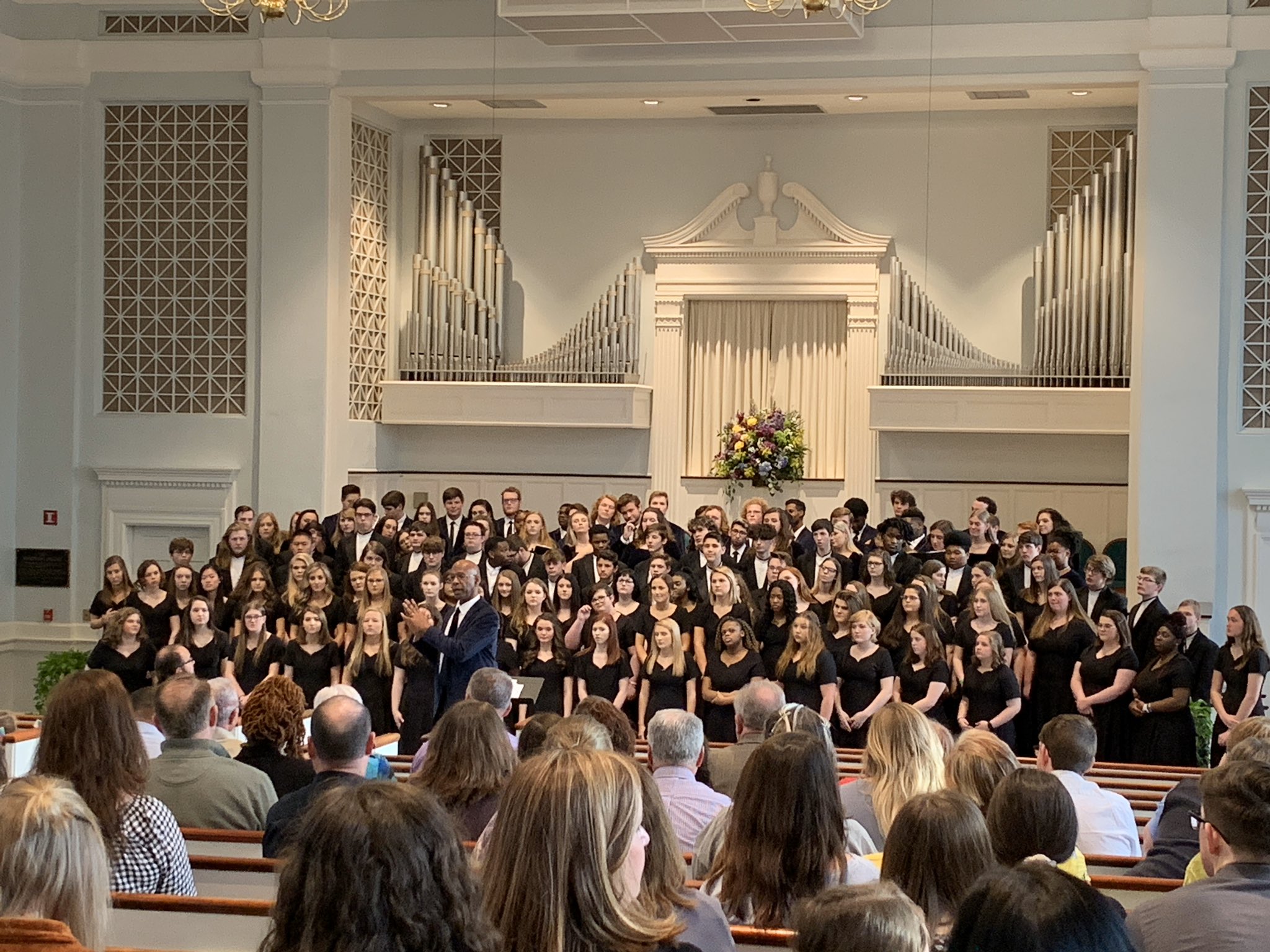 Pictured: THS Choir conducted by Auburn University's Dr. William Powell on March 1, 2020
STAFF
Jerry Cunningham - Fine Arts Chairman; Coordinator of Capital City Classic
Robby Glasscock - Director of Bands / Department Head
Kelley Hill - Choral Director & Assistant Band Director
Michael Bird - Choral Director & Assistant Band Director
Debbie Rogers - Administrative Assistant
Adrian Borden - Theatre Instructor
Vicki Baker - Majorette Instructor
Jennifer Crain - Auxillaries Coordinator & Color Guard Instructor
Amanda Glasscock - Choreographer
Christy Britt - Choreographer
Nikki Ahif - Choreographer
Brent Langley - Music Boosters President
Welcome to the THS Choir Department webpage! Please find any information regarding trips, show choir competitions, and performances in the News section on this website.
For more information about the Capital City Classic, please contact event coordinators jerry.cunningham@tcschools.com or debbie.rogers@tcschools.com.