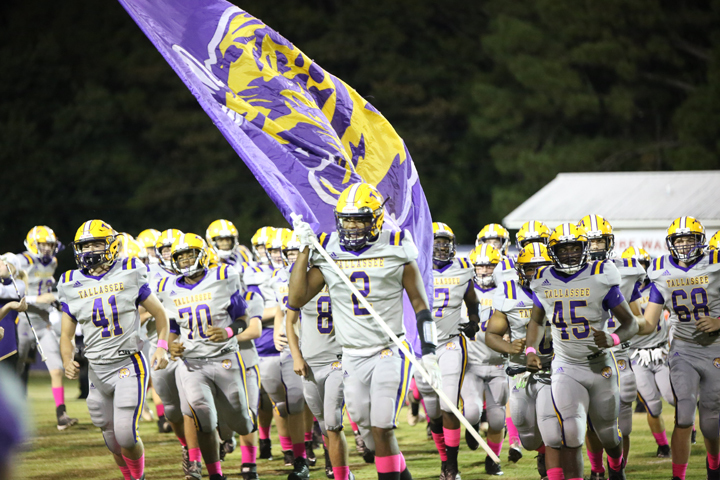 A Century of THS Football, by Michael Butler
Michael Butler
Tuesday, June 02, 2020
A Century of THS Football
By Michael Butler
Tallassee High School fielded its first football team in 1921. World War I was behind the country as well as the Spanish Flu.
Today, THS is closing in on 100 years of football and the U.S. is trying to put another pandemic behind it.
While 2021 will be the landmark 100th year since the first football game. 2020 - if it happens - will mark the 100th season.
Go back 100 years. Warren G. Harding was succeeding Woodrow Wilson as president. There was no television. The first radio station, KDKA in Pittsburgh, was new to the airwaves.
The 1916 Tallassee High School. The building burned down in 1928. Courtesy Virginia Noble Golden - "A History of Tallassee for Tallasseeans"
According to an article written by Jimmy Ballentine in the Sept. 2, 1971 edition of the Tallassee Tribune commemorating 50 years of THS football, Tallassee went 3-4 in its inaugural season. Arthur Noble was listed as the head coach.
"Noble, after seeing the interest in the game, decided to help in the capacity of coach of the team," Ballentine wrote. "At that time, coaches held other jobs other than that of coaching. Mr. Noble was an employee with Tallassee Mills."
Born in Tallassee in 1888, Noble played halfback at Auburn from 1908-10. According to local historian Bill Goss, the 1920 US Census listed Arthur Sanford Noble Jr.'s occupation as a merchant (ice manufacturing and soft drinks). Noble died in 1964. His son Arthur Sanford Noble III (1923-1998) would become a civil engineer at the mill and married Ann Ogletree (sister to Bill Patterson's mother).
Coach Noble's daughter, Virginia Noble Golden Walker wrote the book, "A History of Tallassee for Tallasseeans." Interestingly, she referenced the first team but not the coach.
"Tallassee's football team has been a winning one every year since it was organized in 1921. Sports are widely enjoyed in Tallassee, baseball and football being the favorites, and the most popularly attended."
The first team - 1921 Tigers Front row, left to right: Edgar Hoyle (substitute), Willie Langley (right tackle), Henry Homer (right end), Jim Hurston (right guard), Morrell Horn (center), Dan Mason (left guard), Jack Wright (left tackle), Louis Taunton (substitute). Back row, left to right: Morland Hornsby (quarterback), Jake Catchings (halfback), Tom Mason (fullback), Austin Buce (halfback). Photo by Bilbrey Studio. Courtesty of Talisi Historical Preservation Society from "Images of America - Tallassee"
Assistant coaches to Noble in '21 were: Reid Langston, with First National Bank of Tallassee; Dr. Henry Jones, a local medical doctor; and Dan Herren, Sr., a farmer and businessman.
In Balletine's account he pointed out that, "all of the coaches had football backgrounds and Mr. Herren played at Auburn where he was named to the All Southeastern Conference team."
Ballentine also found the roster of players noted in the '71 article: Edgar Hoyle, Willie Langley, Henry Homer, Jim Hurston, Morrell Horn, Dan Mason, Jack Wright, Louis Taunton, Whit Hornsby Jack Catchings, Tom Mason, Austin Buce, Ralph Gantt, Leonard McGhar, Horace Mann, J. T. Hudson, Austin Horn, Luman Mann, Herbert Griffith, Carmen James, Sam Mason, and Whitfield Herren.
The Alabama High School Football Historical Society has a partial record of the Tigers' first football team. The website indicates that the first game was played on Oct. 14, 1921 against Barnes, a school out of Montgomery, and won by the Tigers 14-7.
Tallassee High School football actually began before John Edward O'Brien (the namesake of the stadium today) came to Tallassee. The first year on the gridiron was 1921. O'Brien arrived in 1936. The first coach at Tallassee was Arthur Noble. Local historian Bill Goss researched and found some detail on some of Tallassee's early coaches that followed Noble. Albert Edward Finlay from Luverne coached in 1925. W. L. Holmes coached in 1926 and '27. Emory University graduate John Frank Meacham from Grantville, Ga. took over in 1928.
1927 Team Courtesty of Tallassee Board of Education from "Images of America - Tallassee" Some of Tallassee's early football success should be contributed to a couple of young coaches who set the stage for O'Brien; Frank Hora DuBose and Albert Albert Edward Choate. DuBose was just 24 when he assumed the head coaching position in 1929. He was born in Tuskegee and grew up in Auburn. The Auburn University graduate was 15-3-2 in two seasons in Tallassee. Byron B. Nelson, Sr., who would become school superintendent, served as an assistant coach under DuBose. DuBose lived to be 101, passing away in 2006 in Manhattan Beach, Cal. Choate from Pulaski, Tenn., was 29 when he left the position of Athletic Director at Alcoa High School in Alcoa, Tenn. to take over as head football coach in Tallassee in 1931. He coached five years compiling a 32-11-3 record. He became the head football coach at Troy State Teachers College (now Troy University) in 1939. During Choate's tenure in the early 30's, O'Brien was at helm at his alma mater of Tallapoosa County High School in Dadeville. From 1932-35 he had a 23-9-4 record. Although, THS and Dadeville became longtime rivals, they did not play during that stretch. O'Brien would go on to beat his former school in all ten meetings while at Tallassee.
F. H. DuBose was the industrial arts teacher at THS, shown in the far right of this 1929 photo. Courtesty of Tallassee Board of Education from "Images of America - Tallassee" Mackie Hornsby Pienezza was head cheerleader at THS in the late 20s and early 30s. Her daughter Olivia Solomon wrote the forward in the reprint of E. W. Wadsworth's "A History of Tallassee." In that section, she recalled one of her mother's favorite cheers.
1929 squad at the new high school Courtesty of Bill Goss from Dec. 1929 Tallassee Mills "Briefs" "My mother still sang and pranced to one of Tallassee's favorite songs when she was eighty years old," Olivia noted.






"Cheer, boys, cheer, For Tallassee's got the ball! Cheer, boys, cheer, For Tallassee's got the ball! There'll be a hot time In the old town tonight!"

The stadium grounds where Tallassee's early teams played is where games are still played today. Virginia Golden recounted the interest in sports in Tallassee in her version of the book, "A History of Tallassee for Tallasseeans." "Sports are widely enjoyed in Tallassee, baseball and football being the favorites, and the most popularly attended. Tallassee boasts the first lighted football and baseball field built in Elmore County," she wrote remembering the 1930s. "Tallassee's football team has been a winning one every year since it was organized in 1921."

Tallassee was a mill town known for strong boys and strong football teams. It had winning records every season from 1928-48. O'Brien's teams received national acclaim during the 57-game unbeaten streak from 1941-47.
1931 Tigers coached by A.E. Choate Courtesty of Bennie Little from "Images of America - Tallassee"
Coach John Edward O'Brien was not only a football coach, he also coached basketball and baseball. His nickname, "Hot" came from his play on the basketball court. W. C. Bryant wrote the biography on O'Brien titled, "Hot and His Boys," and told of how the nickname came about. "The story goes that Ben Englebert, BSC basketball coach, called O'Brien from the bench and said, 'Get in there, O'Brien and get hot.' The crowd supposedly heard Englebert's admonition and took up the chant, Get Hot, O'Brien, get Hot! "That's when the little forward began to hit from all the angles. The press picked up the nickname, "Hot," and a legend was born." O'Brien coached at his alma mater Tallapoosa County High School (Dadeville) in the early 1930s prior to taking the Tallassee job in 1936. Now the stadium where the purple and gold plays bears his name. At THS, O'Brien compiled a 128-39-7 record in 19 seasons.
Davis Melton presenting Coach O'Brien a souvenir football at "O'Brien Appreciation Day" in 1969. Courtesy of W.C Bryant, from the book "Hot and His Boys." Davis Melton was one of O'Brien's brightest stars during the 1940s. He played end during Tallassee's 57-game unbeaten streak. "I played in 31 games of the 57 they won without a loss," Melton said. "I fondly remember before starting out for football, I was on the sideline while the teams were scrimmaging. They threw a ball over there and I retrieved it. Coach O'Brien said, 'He'll be a good one someday.' "In the ninth grade I went out for football. I had to have permission from my parents. Back then it was a rough game. My dad said okay, but my mom was hesitant. I took the yes from dad and went on." Melton's playing career took off from the very first game in which he saw action. On his first play as a freshman in 1943, he caught a pass and took it in for a touchdown. Tallassee's undefeated streak began with a 20-0 victory at Eufaula on Oct. 10, 1941 and ended with a 21-7 loss to Sidney Lanier on Nov. 14, 1947. The largest margin of victory during the streak came on Nov. 17, 1944 against Lineville. Tallassee beat the Aggies 72-7. A Tallassee Tribune article noted that the team broke the scoring record for the season with 284 points eclipsing the previous record from 1942 of 255 points. It also showed that the 72 points were the most scored in a game by a THS team, although records indicate that the 1928 team's 77-0 win over Tuskegee was the most. The story indicated that the previous record was the 1938 Tigers' 60-0 victory against Wetumpka. The article added, "The Tigers dedicated their season to Tiger alumi in the armed forces." In that same season came the scoreless tie with Wetumpka on Sept. 29, 1944, that made Tallassee's win streak an unbeaten or undefeated streak. The Tribune write-up referenced the Wetumpka game in its season-ending article after Tallassee's trouncing of Lineville. "Except for the 0-0 tie with Wetumpka in the second game this season, Tallassee's performance has been consistently outstanding." Bryant wrote about the field conditions being a "quagmire" in the stalemate with the Indians. "The pigskin may as well have been alive and greased." Bryant continued with an exchange between halfback Jimmy Beavers and O'Brien in the locker room at halftime. "Beavers spoke up: "Coach, it' raining so hard out there I can hardly see." In a quick beat, O'Brien said, "Well, my goodness, Jimmy, it's raining just as hard on Wetumpka's side." When time ran out, Tallassee had first-and-goal on the Wetumpka 3-yard line. "For the past 23 games Hot's boys had not lost," O'Brien wrote. "Tonight they had not, yet they'd not won. It followed, then, that their winning streak would have to be considered differently. Instead of consecutive wins without a loss, it must be termed simply, wins without a loss." In Tallassee's 12-0 win over Lanier in 1946, the buildup was of epic proportions with some bulletin board material received from O'Brien in the mail as highlighted in the O'Brien book. "Dear Coach, I represent a large number of Montgomerians who have been reading all about your high school team and how they haven't lost a game since 1941. Why don't you play somebody that's half as good as you are? No wonder you haven't lost a game in five years playing those underdogs you have been playing. "How did you get the nerve to take on Lanier this year...? I will tell you your Tigers will never beat Lanier this year. "We have the best team at Lanier we have had in four years, and we are devoting our time to you. I read where the dog team at Dadeville was just one touchdown short by beating you. This proves your team isn't worth a Damn. When you bring your team of Giant Killers to Montgomery... we're going to beat the Hell out of you. Lanier." O'Brien added that the mill shut down the second and third shifts so fans could attend the game at Cramton Bowl. After a Davis Melton 77-yard touchdown run, "the "lint heads" and "mill hands" went berserk," O'Brien added. Montgomery Advertiser sports editor Max Moseley wrote, "Tallassee's victorious Tigers presented one of the hardest-playing and best-coached prep elevens to play here in many a day. The Tigers had some outstanding players, but as a matter of fact the enire team played outstanding... and deserved to win." In the rematch the following season as noted in Bryant's book, an estimated 19,000 turned out to Cramton Bowl to see the streak come to an end. Emory Folmer, who later became mayor of Montgomery, was an 18-year-old senior captain on the Poets' squad. "We knew every back, who the passer was, who the receivers were and who we had to stop," Folmer was quoted as saying in the Bryant book.
Eddie Frank Britt's first season with Tallassee was in 1947. "I did not play that night. I had a hurt leg," Britt said. "At that time, Lanier was the only public high school in Montgomery. They had about 135 players out. We had about 35." Britt, who lived in Reeltown, took great strides in order to play for O'Brien. "Reeltown did not have a football team. That was seven miles from the river bridge to my house where I grew up and many a night I would walk. The walking home was sometimes scary because I was the only one on the road at dark. "The teacherage was over by the school. Ben Davis dated a lady from over there. Their night out was Wednesday. They'd pick me up a lot of times. During those times, there weren't many vehicles on the road. I had a ride in the morning with a barber, Versel Baker. "O'Brien was real devoted to the game and to young people. He really liked young people. He was a wonderful coach, friend and person." After the Lanier loss, THS supporters mourned the defeat. "Tiger fans in the huge concrete stands - some shaking their heads, some weeping quietly – filed out," Bryant wrote. "The thousands of Tiger followers, who, over the years, wondered when, where and how the winning streak would end, now knew, in vivid detail. It was over." Tallassee Tiger superfan Morris Purcell remembered the pressure of the streak. "I saw every game coach O'Brien coached except seven (when) I was in the service," Purcell said. "I wouldn't want to see a streak like that again. It was too much on the coaches." Birmingham News-Age-Herald writer Jerry Bryan wrote about Tallassee's achievement to "break all marks." "(It) eclipsed all previous records for consecutive football streaks," Bryan wrote. "The best records available show a streak of 51 wins in 52 games, with one tie, amassed by Massillon (Ohio) High under the guidance of Paul Brown, later coach at Ohio State and new mentor of the Cleveland Browns." W. C. Bryant pointed out in his book that the streak was regarded as a national record. "(It) stood for almost 20 years. From 1959 through 1966, Jefferson City High School in Missouri strung 71 games without a defeat or a tie. From 1992 through 2003, Concord De LaSalle High in California neither lost nor were tied for 151 football games, a national record that still stands." Virginia Golden also referenced the unbeaten streak in her book, "A History of Tallassee." "The team is the holder of the national high school football championship in the number of games won," she noted. "From October, 1941, until November, 1947, Tallassee High School remained undefeated. This record brought national attention to coach, J. E. O'Brien, who was athletic director since 1937. A list of the names of the boys who won this championship for Tallassee would be to a large extent read similarly to a list of early Tallassee settlers."
1944 Tigers Today, the state's longest unbeaten streak belongs to Tuscaloosa High at 65 games (62-0-3) from 1925-31. Andalusia went 58 games (57-0-1) without a loss from 1972-78. Tallasssee's run from 1941-47 (56-0-1) is listed as third best in the state. The longest streak without a tie is 55 games, set by Clay County from 1994-97 under coach Danny Horn. In Bryan's story from 1947 he added that Tallassee "played in their own baliwick pretty closely over the years. During one streak of late 1942 and 1943 (they) went 12 games without being scored on." The '47 season concluded with a 20-14 win at Phenix City in the game that followed the Lanier. The Tigers were 9-1. Bryant quoted O'Brien on the finality of the streak. "Now that's it's over, as a team, as coaches, as students, as fans, let's realize that it takes a lot of luck and lots of good boys to go 57 games without a defeat and take it on the chin. Somehow I fell a little relaxed. Don't you?"
1944 game program In 1948, Tallassee was 6-2-2. In '49, the Tigers went 4-4-1. Billy Gaither was a multi-sport athlete for the THS Tigers under coach J. E. "Hot" O'Brien from 1949 - '51. "Coach O'Brien was always finding a way to involve as many boys as possible in his programs," Gaither said. "He got me involved at age 14." Gaither had a serious accident in baseball at 14 that could have sidelined him from all sports if it had not been for O'Brien's efforts. "We were playing in a cow pasture and doing batting practice. I was off third base warming up to pitch. A line drive hit me over my left ear, knocked me out and gave me a concussion. I had to have surgery in Birmingham. I had double vision for a while and headaches. "Coach O'Brien came over to see me. I still had bandages all over my head. He had an old football. He said, 'I understand doctors said you can't play contact sports, but you get out here and practice punting and place kicking and you can be on our team.' That's the kind of man he was. He was a great man as well as a great coach." It was a iffy proposition to take to his parents, but Gaither garnered their support. "I kept begging the doctor to let me play. He finally said, 'It's up to you and your parents. You know the risk.' My dad was a big sports fan. He said, 'Son, do you really want to play that bad?' I said, 'Yeah, I want to play. I want to play for Coach O'Brien.' He said, 'Okay.' "I had to have special headgear to play football. For basketball, he took a boxing helmet and cut it away, so I wouldn't get an elbow in my head where part of the skull was missing. My headgear didn't come off in football but one time in two years. It was in a pile up. Thank goodness my head didn't get hit. I look back on it and thought about how foolish I was to do it, but I wouldn't take anything for it." The highlight of Gaither's senior season in 1950 was, as usual in those days, a matchup with Sidney Lanier. The Poets' quarterback was Bart Starr. "We intercepted him that night. Doyle Frazier intercepted him. We bragged about it for years," Gaither recalled. "At the end of the third quarter we had them 7-6, but they got two touchdowns in the fourth quarter. We were just worn out playing both ways. They had enough people to keep putting fresh people in." The Tigers lost by a score of 19-7 at Cramton Bowl in Montgomery. Another one of Gaither's favorite memories came before he was a high school player at the same venue vs. the same team.
"In 1946, 18,000 people watched the game in Cramton Bowl when Tallassee beat Lanier 12-0. It was a fantastic setting. I remember as a junior high kid watching that game. Davis Melton ran the Williams reverse, which was the end around, and went 77 yards. "They shut down the mill and let people go down to that game. People closed the stores in Tallassee. The atmosphere was just electric. I'll never forget it. Coach O'Brien would get a team up when they were an underdog to someone like Lanier. He would say, 'Listen boys, they have to get up in the morning and put on their pants the same way you do - one leg at a time.' He would say things like that to get the guys all stirred up." O'Brien would also remind the players of who was the coach and who called the plays, as he did with Gaither in his first start in the season opener in 1949. "That was my first game as quarterback as a junior. We were playing Auburn High. We were mainly a running team. Most of his teams were that way. The cornerbacks were kind of creeping in. I had a tall end, about 6-3 or 6-4. His name was Marion Clark. I said, 'Marion, we're going to run a pass play. You'll be behind them. Be ready for the ball.' He got open. I threw a long pass for a touchdown. "The next time I saw O'Brien on the sideline he said, 'Why'd you throw that pass?' I said, 'Coach, I thought we could catch them off guard.' That's all he ever said. He always wanted an explanation if you did something wasn't real prudent." By the way, the difference in the game was that touchdown in Tallassee's 7-0 victory.
1947 Tigers O'Brien knocked down racial barriers even during a time of segregation in the 1950s, Charles Blalock recounted. "Before it was RR Moton, it was Tallassee Colored High School," said Blalock, a 1956 graduate. "When (O'Brien) got through practicing with his guys, he would come down. He gave us three plays. There was quick left, quick right and dynamite." Blalock said the the three plays were designed for the fullback and halfbacks but became six plays with quarterback keepers included.
The 1952 RR Moton football team "We thought it was exciting that Coach O'Brien and Jackie Williams would come down. They would stay with us. When we got ready to travel, they would get on the bus. Back then it was tradition that when the visiting team would arrive, the host team would come out and meet the team. "At Lanett, Coach O'Brien and Jackie Williams were in the front seat just opposite of the driver. When that bus stopped, all the guys from Lanett were standing there. Coach O'Brien and Jackie Williams were the first two that stepped off the bus. You could hear those guys say, 'Those guys from Tallassee got a white coach.' "It was not unusual on a Wednesday night to see Coach O'Brien cruise through Jordanville because our game was on a Thursday night and the Tigers game was on a Friday night. He wouldn't tell you to go home. He'd stop and say, 'Hello. How you guys doing? We got a game tomorrow night. We want you to get ready for that.' In the practice the next time, that's when he'd really get on you. 'I saw you guys out after curfew.' We loved that man. He showed a lot of love for us." After a temporary respite from coaching in 1952, OBrien returned to the sidelines in 1957. Bill Patterson played on O'Brien's last football team in 1958. "After a 4-5 season in '58, we begged him to stay," said Patterson. "He said, 'Bill, it's not like it used to be, and I'm going to move on.' He turned it over to Jackie Davis (a former player for O'Brien)." O'Brien coached baseball at Tallassee in 1959. Patterson played on the squad, as did Kenny Fomby. "Coach O'Brien was a teacher," Fomby said. "He wouldn't raise his voice and pitch a fit." O'Brien won 79 percent of his games in tenures at Falkville, Tallapoosa County (Dadeville) and Tallassee. He served as principal at THS for three years after his coaching duties. An avid golfer during his golden years, he died on Jan. 18, 1977. O'Brien was inducted into the Alabama High School Athletic Association Hall of Fame in 1991.
Former O'Brien players at the J. E. "Hot" O'Brien Stadium fieldhouse to honor him in June of 2016



Members of the THS band on a trip to Troy in 1955 Courtesy of W. C. Bryant


Usually, following a legend is not an enviable task. There were two instances in the 1950s when football coaches got the challenge - both to follow the same fellow. John Edward O'Brien retired from coaching at Tallassee in 1952. In those 17 years, he had just one losing season. Ten of those teams had one loss or less. From 1941-47, O'Brien's teams went 59-2-1 including the renowned 57-game unbeaten streak. O'Brien did come back to coach in 1957 and '58 and retired again. From 1953-56, three men became head coaches after O'Brien; John North, Charles Hattaway and James Edwin Newby. After O'Brien's second retirement, former O'Brien pupil Jackie Davis took over in '59. Davis would coach for four seasons.
Coach O'Brien's last team in 1958. Pictured with him on the back row are Bennie Little and O'Brien's successor Jackie Davis. Photo courtesy of Bill Patterson. North followed O'Brien in '53. His team went 2-5-3. North, from Gillam, La., played end at Vanderbilt. He also played basketball and ran track. As a college fresman at the age of 17, North enlisted in the Marines and fought in World War II. He was awarded a Purple Heart after being shot multiple times in both calves during combat. His parents were told that he had died. Doctors told North that he would never walk again. While in the hospital, he walked around on his hands. North defied the skeptics and was drafted by the Washington Redskins in the sixth round of the 1945 NFL Draft. North played with the Baltimore Colts from 1948-50. After the one season in Tallassee, North left for a college position at Tennessee Tech. He would go on to coach at Kentucky and LSU, as well as in the NFL at Detroit and New Orleans. North was the head coach of the Saints from 1973-75. He spent his final years in coaching as an assistant with the Atlanta Falcons before reitiring after a season with the New Orleans Breakers of the USFL. Charles Hattaway took over in 1954 in what would become Tallassee's best season since the last year of the O'Brien undefeated streak. The Tigers went 9-1. The late Howard Earl Stalnaker was interviewed on WTLS for the 50th anniversary of the '54 season in 2004. 1954 was the year WTLS came on the air and began broadcasting Tigers' football. "Coach O'Brien said this was the best Tallassee team since the winning streak," Stalnaker recalled. Stalnaker actually felt that the '54 might have been the best team THS had ever fielded. Seven players were all-state picks. And, seven went on to play college football, including Danny Wilbanks, who would play at Alabama.
Wilbanks "John North had built the team the year before. We had some great players on that team," Wilbanks said in another interview on WTLS. "We had some big players for those days."

In big, Wilbanks means 200-pounders. Wilbanks was a 200-pound fullback. J.W. Woodall was a 200-pound guard. Tommy Higgins weighed in at 205 as a tackle. All three played in the AHSAA All-Star Game.

Woodall and Higgins went on to Auburn. J.B. Ashurst went to Troy. Jerry Golden went to Clemson. Ed Christian and Lafayette Peters joined Wilbanks at Alabama. The Border Conference champions in 1954 outscored its opponents 250-65, allowing just 6.5 points per contest. The Tigers beat Lanett 14-12 in the first of five straight road games starting in October. The victory came at a cost. Five starters did not play the following week at Valley due to injuries sustained at Lanett. Valley handed Tallassee its only loss of the season 13-0. In early November, Tallassee played host to a stout Holtville team. The Bulldogs had outscored their first seven opponents 226-0.

"When we played Holtville that year, they had a great running back James Shaw," Wilbanks remembered. "They were untied, unscored on and undefeated when they played us in Tallassee. We beat them 34-0."

Jack Hornsby of the Tallassee Tribune gave the recap with a headline, "Bulldogs See Unbeaten, Untied and Unscored on Record Bite the Dust." Holtville finished the '54 season ranked No. 4 in Birmingham Post Herald rankings. Tallassee was No. 8. Bulldogs coach Herb Chapman would later coach Tallassee's Woodall, Higgins and Wilbanks in the state all-star game. 1954

vs. Auburn

W

20-7

vs. Elmore County

W

39-0

vs. B.B. Comer

W

43-6

at Lanett

W

14-12

at Valley

L

13-0

at Opelika

W

26-7

at Wetumpka

W

12-0

at Dadeville

W

48-14

vs. Holtville

W

34-0

at Lanier

W

14-6

The '54 season marked the last time the Tigers would beat Sidney Lanier. It came in the final game of the season 14-6. Lanier took the next three games from 1955-57. The teams have not met since. "We didn't have that many guys," Wilbanks added. "We went to Lanier and they dressed about 95 to 100. We dressed 23 guys, but we had 18 that could play." Among the other notable victories were Auburn, Opelika and Wetumpka. The 1950s was an era before playoff games; however, the Birmingham News proclaimed Tallassee as the Class A state champions from District 2. "It was a once in a generation type thing," said Wilbanks."And as small a town as we are, we were just fortunate to have that many guys come together." Coach Hattaway, a Troy native, played college football at Auburn for Ralph "Shug" Jordan from 1951-53. Fans would say, "Hattaway went that-a-way." The tailback led Auburn in rushing with 433 yards in 1953. As a senior, he scored the Tigers' only touchdown in the regular season-ending 10-7 loss to Alabama. The next year, he was head coach at Tallassee where he stayed for just the '54 season. James Edwin Newby took over in 1955 and coached two seasons going 8-12 which prompted the return of O'Brien. He went 4-5 in 1957 and 4-5 in '58.
Davis

"W

e begged him to stay," said Bill Patterson, who played on O'Brien's final squad. He said, 'Bill, it's not like it used to be, and I'm going to move on.' He turned it over to Jackie Davis."

There would be no return for O'Brien to coaching. He did take a role as an adminsistrator spending three years at THS as principal. Davis was a 1946 graduate at Tallassee and played for O'Brien. He went on to play football at Troy after two years in the Army. His first coaching job was at Elmore County High School. His team's 7-0 win over Verbena in 1955 broke the Red Devils' 50-game win streak securing his alma mater's and O'Brien's 57-game record. After six years in Eclectic, Davis joined O'Brien as an assistant in 1957. He took over as head coach in 1959 going 7-3. Also in '59, Davis' track team was the state champion. The next year he was 7-2-1. In 1961, Tallassee went 7-1-1 and won the Border Conference Championship. His last season at THS was 4-6 in '62. Davis would coach one more season at Macon Academy in 1964. During Davis' years at Tallassee as head coach, the Tigers were consistently in the state rankings. In 1959 Tallassee peaked at No. 6 in the Montgomery Advertiser poll. They climbed to No. 3 the next season and finished at No. 5 in the ASWA rankings, as well as No. 8 in the 1960 Birmingham Post Herald year-end poll. In 1961, the purple and gold ended the season ranked No. 5 in the ASWA poll and No. 9 in the Post Herald rankings.
Coach Davis' 60 Tigers Davis, like O'Brien, went into administration after coaching. He served as assistant principal at THS from 1966-70 and became principal at Stanhope Elmore High School in 1970. He was inducted into the 2020 Class of the Tallassee High School Hall of Pride.

From 1959-62, Tallassee High School head coach Jackie Davis had three 7-win seasons in four years. His record at his alma mater was 25-9-5, not bad in a follow-up to J. E. "Hot" O'Brien. Davis' final Tiger team went 4-6 in 1962, his only losing season. The Alabama High School Athleitc Association classification system was implemented in 1963. Tallassee was placed in Class 3A and would remain there during the 20 years of the four-class system. The AHSAA expanded to six classes in 1984. John Whatley took over in '63 becoming one of three coaches to take the reins at THS over the next decade. Over that span, Tallassee would have just two winning seasons which would come under Ken "Tank" Mitchell in 1968 and 69. Duane Webster, an O'Brien disciple, left Reeltown for Tallassee but was unable to garner the success he would find with the Rebels, the success that would later put him in the Alabama High School Athletic Association Hall of Fame. Whatley, who had three losing seasons at THS, had a similar fate as Webster but not to the same scale. He found success at Holtville putting together a 15-5 record in 1961 and 62. After just seven wins in three years at THS, he returned to Holtville in '66.
The 1967 Tigers Mitchell was player for Paul "Bear" Bryant at Alabama. "When I went to Alabama I weighed 238 pounds. After the end of the first spring I weighed 169 pounds," Mitchell said. "There were 89 players when I came in as a freshman. When I graduated there were 11 of us left. It was very competitive. "At the end of my first year at Alabama, I had an interview with Coach Bryant before we left to go home in the summer. He said, 'Tank, when you came to Alabama you was too fat. Now you're too skinny. You need to go on back to Florence, Ala. and get you a job working with the city or something. I don't think you'll ever play at Alabama.' "I said, 'Coach, it's cool here in the summer. I've never lived in an air-conditioned place. It's warm in the winter. I haven't had to build a fire since I've been here. I get three good meals a day. Whatever you've got for me is better than what I've got to go home to. You can take my scholarship away if you want to, but I'm not going to quit.' He kind of laughed and said, 'We'll see you in September.' "We had some great players there at the time. We won a national championship in 1961 when I was a redshirt sophomore. In my senior year we won a national championship again. The next year in '65 they won it again. I was there when Namath was quarterback and Steve Sloan after him. Then Kenny Stabler was after him." Mitchell told of a time when after his playing days he teamed up again with Namath on the golf course. "He just had both of his knees replaced. I had developed some arthritis. We got out of the cart walking to the first green. He was hobbling along. I was kind of bent over a little bit. He said, 'Tank, you know that free education we got wasn't quite free was it?' I said, 'No. It sure wasn't.' Neither one of us would take anything for that."
Mitchell's final team at THS in '69 Mitchell came to Tallassee after his first head coaching gig at Gordo for one season in 1965. His first season in Tallassee was not good. The Tigers recorded the first winless season in school history. The '66 Tigers were 0-8-1. The tie came in week one against Auburn (7-7). Tallassee has had just one season since with no victories (2002). 1968 1969

at Dadeville

W

19-6

vs. Dadeville

W

28-0

vs. Auburn

W

13-6

at Auburn

L

7-0

vs. Lyman Ward

W

38-0

at Handley

T

0-0

vs. LaFayette

W

49-14

at LaFayette

W

20-13

at Chilton County

W

19-0

vs. Chilton County

W

44-0

at Opelika

W

39-13

vs. Opelika

W

36-6

at Wetumpka

L

13-7

vs. Wetumpka

W

20-0

vs. Alex City

L

20-14

at Alex City

W

20-15

vs. Lanett

L

7-6

at Lanett

L

19-16

at Stanhope Elmore

W

21-0

vs. Stanhope Elmore

W

30-0

The turnaround was quick for Mitchell; however, as Tallassee improved to 5-5 in '67 and had back-t0-back seven-win seasons in '68 and '69. "We had a great bunch of kids. They worked really hard," Mitchell said. "It was a good time in our life. My daughter was born while we were in Tallassee. The people in Tallassee have a love for football. Win, lose or draw, they were always with you. The reason I left, I wanted to get into college coaching." Mitchell left Tallassee in 1970 and became an assistant coach at Florida State for one season before leaving for Troy State and coaching for four years. He then left coaching to take a job with the Alabama Private School Association.
Webster (far left) in 1970 with Melvin Barker, Coach Paul Taylor, Jimmy Brodzinski, Coach Lamar Godwin In 1970, one of O'Brien's boys followed Mitchell. Duane Webster was named head football coach. "I had no idea if Coach (O'Brien) had anything to do with it or not," Webster said. "Mr. (Bennie) Little and (Earl) McArthur came to see me. I took the job on the second meeting. Money was a big part of it. I had been successful at Reeltown and I thought I deserved more money than I was getting. I wasn't getting but $500 a month to coach and coached football and basketball. At Tallassee I got a good raise and a place to live for $40 per month in the old teacherage." Webster had already built a name for himself at Reeltown where he coached 14 seasons after graduating from Auburn. The Tallassee alum was 98-33-8 in his first stint at Reeltown. The Rebels were 9-0-1 in 1969.
The mentor with successors; current Reeltown coach Matt Johnson (left) and Jackie O'Neal Photo by Suzannah Solomon Wilson Webster had allegiances to both schools prior to getting into the coaching profession. "I was in school at Tallassee. Mr. Little was my shop teacher in seventh grade," Webster remembered. His younger siblings Carolyn and Charles were also enrolled at Tallassee. It was during that seventh grade year in Novmember of 1943 when Webster's entire world would turn upside down. "My brother Charles and sister Carolyn had moved with my mother down on the (Lower) River Road. She had left my father. We lived down there about two weeks. Police came to the school. My father had killed my mother and he killed himself. "We had three older sisters. They each took one of us. I went with Thelma to Reeltown. I went most of the 7th grade though 11th grade to Reeltown. I was having a hard time because me and my brother-in-law couldn't get along too well. I had a lot of friends who took me in from time to time. I lived with different families. In the 12th grade, it was with Emory Daniel and his wife Mary Francis in Carrville. "Somebody made arrangements for me to work in the mill from 6-10 in the morning. I was making 80 cents an hour. I'd get to school about 11. I played football and basketball. I never played football before. I was a pretty good basketball player. I made all-county at Reeltown the year before. I made all-district, me and Jackie Williams, at Tallassee my senior year." Coach O'Brien was the basketball coach in addition to football. "He was a good person. He might have been a better person than coach. It all goes together. He took me under his wing because I was a country boy coming to the city. A few people on the football team didn't like country boys. I had to go through a little harrassment, nothing major. There were days that I wished I wasn't out there. I thought I knew what football was about until I actually got out there. I had always wanted to try and play but didn't have the opportunity at Reeltown because we didn't have a team." The year was 1948, the season after the 57-game win streak had ended. Webster played end on offense and defense. Tallassee went 6-2-2. After high school, Webster enlisted in the Air Force and served during the Korean War. Webster went to college at Auburn afterwards. "I was going to major in accounting. I had played a lot of athletics while in the Air Force and high school too. Sports was always important to me. After the fifth quarter, I changed my mind to go into coaching." He married Vera Goss in 1953. 67 years later, they are still together. "I started coaching at Reeltown in August of '56. I graduated in December of '56. I was doing home study." Webster's position at Reeltown was as head of both the football and basketball programs. "I had agreed verbally to take a job at Wedowee as basketball coach and assistant in football. I didn't think I was qualified to coach football. I didn't play but one year. Fortunately I got to play for one of the best that ever was. "Reeltown's athletic program was terrible. They had won one and tied one the past three years before I went there." In fact, Reeltown had just five wins in seven seasons under six different coaches prior to Webster's arrival. In 1955 under coach Bill Carr, the Rebels were 0-8 and outscored 226-6. "They kept begging me to take the job. I just didn't feel comfortable. They finally convinced me, so I went to work." Webster went 6-4 in the first of what would become 30 years of coaching.
Webster turns 89 this June

"I used what I learned from coach Hot," Webster said of O'Brien in W. C. Bryant's book, "Hot and His Boys." "I also consulted with him on a regular basis. He was my Hero." Reeltown bookends a Hall of Fame career that included four seasons at Tallassee. "(Tallassee) had good teams the years before I took over," he recalled "Most of the (1969) team graduated. We went 4-6 the first year which wasn't too bad considering the schedule we had to play. The next two years were awful - one win each. We won four again my last year. Coach O'Brien spoiled everybody." From 1970-73, Webster's THS teams went 10-29-1. The wins might have been less than expected but Webster's influence was strong with his players at Tallassee including Tony Mann. "I was 15 going up against some seniors on the offensive line and of course I was intimidated," Mann said. "Coach Webster realized that and knew how to talk to me and how to handle the situation. That stuck with me throughout my life. His foot in my rear helped too, but he always had time to talk if you had a problem and would listen. That went on even after he went back to Reeltown."
1970 cheerleaders (seated, left to right): Emily Thompson, Julie Patterson, Leigh Ledbetter. (Standing, left to right): Brenda Mann, Francis Roton, Susan Chambliss. Webster and Morris Purcell are credited with bringing back youth football in Tallassee with the "Pee Jinks" program in 1971. He also brought back high school baseball to THS the same year. "There was no program from 1959-70," he said. Webster coached the 1971 baseball team, followed by Jack Finlayson in 1972 and '73. Dan Bianchi was the skipper of the '74 Tigers. Ronnie Baynes assumed the duties of football in '74 and baseball in '75. Things worked out for Webster's return to Reeltown in 1976. In 1984, the first ever Tallassee/Reeltown football game was played at J. E. "Hot" O'Brien Stadium won by Tallassee 36-21. It was the Tigers' only victory against their former coach. "I was 3-1 against them," said Webster. "Marc Rice approached me about playing. Then Steve McCord came on board as coach." The series returns in 2020 after a 17-year absence. "A game like Tallassee will pay Reeltown's athletic program for the year. I hope things don't get out of hand. That's what happened the last time. Fans got too involved. I hope it works out because it's good for both schools."
Webster with his wife Vera and daughter Venita after Highway 120 was named in his honor near Reeltown School

. Photo by Suzannah Solomon Wilson. Webster closed out his career with a 12-year stint at Reeltown going 110-31. He won the state title in 1987, his final year as a coach. "Coach (Terry) Burt won the state championship in 4A. We beat them. We used to play a lot of golf together. We were good friends." Webster's 2A champs beat the 4A Panthers 28-0 in '87. The Rebels went 15-0 with a 9-7 victory over Winston County in the championship game. From 1984-87, Reeltown was 51-6 with two state title appearances - one a narrow 17-14 defeat against Millport in 1984. "The '84 team won the title too. We just had a biased official." In three coaching decades, Webster was 218-93-9 on the gridiron. "My record at Tallassee wasn't very good, but you take the bad with the good." In 1982, Reeltown's football facility became Nix-Webster Stadium. Webster was the 1985 2A Coach of the Year. He was inducted to the AHSAA Hall of Fame in 1994. In March of this year, Highway 120 near Reeltown School was named the Coach Duane Webster Highway.
When Tallassee folks hear the name Ronnie Baynes, they probably think of state championship baseball, but there is much more to Baynes' resume.
He coached baseball, football and girl's basketball while at Tallassee, and worked as a football official on the side.
Baynes grew up in Talladega and lettered in football, basketball and baseball at Auburn.
"Baseball was my biggest love," Baynes said. "In Alabama, especially when I was coming up, it was football, basketball and baseball in that order. If you signed in football you could play other sports. I kind of got wrapped up in the football business."
In 1965 he was drafted by the Dallas Cowboys but the opportunity to play never came to fruition.
"God blessed me with a little athletic ability. Football is what it is. I got hurt my freshman year and played one game healthy at Auburn. I had a couple of injuries. Back then surgeries were not what they are now. When it came down to deciding between professional sports and coaching, I chose coaching. I think it was a wise choice for me."
1981 coaches: Baynes, Curry, Autery, Weaver, McDaniel, Posey
His first coaching gig was at Banks High School in Birmingham as an assistant with Shorty White.
"Banks was a real football powerhouse back then," Baynes recalled. "We coached the likes of Johnny Musso, Larry Willingham and David Cutcliffe. It was probably the number one sports school in all the state at that time."
Baynes' first head coaching job was in football at Parrish Selma which later became known as Selma High. The stint was from 1968-72. Baynes stopped coaching briefly then landed at his hometown school at Talladega.
"I was coaching track, ninth grade football and swimming. I was looking for a head coaching job. I came home one day and my wife Marie said, 'I think I've got you a head coaching job. Have you ever been to Tallassee?'
"I had never been to Tallassee. I had a teammate, Mac Bell at Auburn, who was from Tallassee. I had a basketball teammate at Auburn from Tallassee, Curtis O'Daniel. I knew about Tallassee, but had never been to Tallassee.
"She and I had been married over a year at this time. I said, 'Have you ever been to Tallassee?' She said, 'I was born there. I lived there through first grade.' I knew it was similar to Talladega. They're both Tigers. They both were predominately textile mill towns.
"I was coaching the Talladega swim team against Tallassee in Tallassee. We came that Saturday for a swim meet. The movers moved us in. The kids swam for Talladega on Saturday. On Monday, they started swimming for Tallassee."
Baynes with the 1977 senior players
Baynes knew after the first meeting about the Tallassee position that it was where he was going to go.
"I interviewed with Mr. McArthur. Mr. Little was in there. They liked me. I liked them. I was there for 18 years. I raised all my kids there. I loved every minute of it. It was a God blessing."
From 1981 (left to right): Ben Kelly, Todd Davis, Rhett Dennis
Baynes tenure as THS football coach became the longest since O'Brien's lengthy run. Baynes coached eight seasons from 1974-81.
"We were good when we had good players. It didn't matter who the coach was. There have been a lot of good coaches who came through Tallassee and had their up and down years like we did.
"When I came to Tallassee there were only four classifications. We were I think the third smallest 3A school in the state. We were playing; Auburn, Opelika, Valley, Wetumpka, Stanhope Elmore and Benjamin Russell. We were competitive. We were always competitive. When it went to six classifications and Tallassee was 4A, it put us in a situation where were a lot better."
Baynes' best year was in '76. Tallassee went 8-2.
| | | |
| --- | --- | --- |
| 1976 | | |
| at Lanett | L | 27-0 |
| vs. Russell County | W | 20-6 |
| vs. B.B. Comer | W | 14-6 |
| at Dadeville | W | 48-0 |
| vs. Valley | W | 33-0 |
| vs. Elmore County | W | 25-22 |
| at Wetumpka | W | 21-14 |
| vs. LaFayette | W | 32-22 |
| vs. Southside Selma | W | 19-0 |
| at Stanhope Elmore | L | 45-20 |
The eight victories was the most by a Tallassee time over a 22-year stretch of mostly lean seasons. Mike Stokes was a first-team all-state lineman. His younger brother Randy would also have all-state status under Baynes.
Tallassee beat Elmore County 29-22 on Oct. 8 at O'Brien Stadium. The loss would be the Panthers' only setback. Terry Burt's squad went 13-1 and claimed the 2A state championship, the school's first title.
"That was one of the most exciting games. The competition between Tallassee and Eclectic was real good. Coach Burt had such a good program. He was such a great coach.
"For that game, the stadium was packed about 6 that night. There were people coming in to get seats at 3 or 4 in the afternoon. By kickoff, that whole stadium was standing room only.
"It was a heck of a ball game. We thought we had a real good defense. They thought they had a good defense, but neither team could stop each other. It was whoever had the ball last was going to win the ball game. We got it late and went for it on fourth down about three times to keep from having to punt to them. We were scared if we punted to them they would win."
1976 Tigers (left to right): Mike Daniels, Jimmy Haynes, Craig Goss
The 1976 Tigers' two defeats came against Lanett and Stanhope Elmore bookending a season with eight straight victories. The two losses were in region play denying THS of its playoff hopes.
1974 cheerleaders (front): Charles Blalock, Jr. Middle (left to right): Vicki Webster, Jan Emfinger, Terri Dailey, Vicki Clayton. Top (left to right): Sissy Lynch, Janet Dailey, Kay Stephenson.
One of Tallassee's biggest wins of the 1980 season was a 9-8 victory over Dadeville.
"It was maybe our best win," Dan Wilbanks said. "They were ahead 8-0. We kicked a field goal in the third quarter to make it 8-3. We called timeout late in the game. We were backed up on our three yard line. Jeff Webster is the quarterback. He says, 'Guys, hold 'em off of me. We think we've got a touchdown. I'm thinking we're 97 yards from a touhdown and JW's saying we got a touchdown on this play."
Baynes continued Wilbanks story about the call that did actually go for a TD.
"We called that play after a timeout. I made everybody back up on the sideline, because Moosecat was going to come by and score a touchdown. We ran the bootleg swing pass. He made some poor safety drop dead out there. He put a move on him so quick. That was one of the fun wins we had. Dadeville had a heck of a team."
Baynes on picture day in 1980
Baynes' team closed out the '80 season with a baseball-like final, a 2-0 win over Stanhope Elmore in Millbrook.
"It was a great win for us," said Baynes. "That was a good team. We ended up 5-5, but we were really better than that. Stanhope was 7-1-1. We shut them down. We went to a new defensive approach with them. They had trouble passing the ball. We went to a press defense and ran stunts almost every play.
"On the first play, they called Randy Stokes offside and gave them a 1st and 5. They didn't make the first down."
"Randy s stunted on the first play," Wilbanks added, "and hit Andrew Gilder after being offsides. He hit him three or four yards deep and it set the tone for the entire game.
It was a defensive masterpiece, but the THS offense had its chances.
"We controlled it," said Baynes. "We went up and down the field. I don't want to complain about officiating too much since I'm an official, but I think we scored twice and they didn't give us a score. I know Steve Moss scored on the goal line one time."
Dan Wilbanks was the hero in the contest recording the safety for the Tigers. It came in the third quarter.
Randy Stokes with his son Hill who now plays football for Vestavia Hills High School
The Talla-Hi News reported, "The only score of the game came when Steve Moss punted from the Stanhope Elmore 36 to the 3 where Tiger Russ Newman downed it. The Mustang quarterback fell back into the endzone to pass and Wilbanks broke through to him for the safety."
"I think the quarterback's name was Mike Bush," Wilbanks said. "He had to go out wide a bit. I had beat my block, grabbed him and threw him down. We were all excited. It was still nerve wracking because we had to hold them for the fourth quarter. It was a great win and one that people ask me about an awful lot. I've even been accused of falling down in the endzone and the guy tripping over the top of me."
Baynes also commented on the special play.
"Dan was in a three technique on the right side. Randy was three technique on the other side. (Dan) ran that technique about as well as you could. He hit the guy and the guy didn't hook him. The play goes outside of him and he comes off that block and makes a heck of a play in the endzone. It was big time."
Linebacker Dwight Phillips was pivotal in the win as well with 20 tackles.
Talla-Hi News clipping of Baynes congratulating Dan Wilbanks after the Tigers' 2-0 win over Stanhope.
Stokes talked about shutout of a team that had beaten them 37-0 to end his sophomore season the previous year.
"It ranks as probably my top three most special games," Stokes said. "We had a better team than our record indicated, so we had a chip on our shoulder. It should've been worse than 2-0. Dan Wilbanks made a great play and we'll never forget it."
Wilbanks ranked Stokes in the upper echelon of Tallassee greats. He played in the AHSAA All-Star Game after his senior season prior to going to Auburn to play collegiately.
"It was a lot of fun," Stokes said of the all-star game. "Obviously Bo (Jackson) was there. A lot of the guys that signed in our class at Auburn were there. Later on down the road it became clear to me how big a deal it was. Everybody doesn't get to go. I was proud I had that chance."
"Randy was as good as I've been around," Wilbanks said. "He went on to have a great career at Auburn."
If it had been up to Stokes, he would have played at Alabama for Paul "Bear" Bryant instead.
"I grew up an Alabama fan. We went 1-9 my senior year. One Saturday down at Southside (School), I was working with Morris Purcell. I wouldn't give anything for those years working with that fine gentleman. Coach Dye comes in and I'm swinging a 12-inch paint brush in the hall. He said, 'Hey we want you to play at Auburn. We want to go ahead and offer you a scholarship no matter what happens to you. We know you're an Alabama fan, but we want your kind at Auburn.' That's what Coach Dye was trying to build. That meant a lot to me."
Dye passed away on June 1.
"He was a special person. He was a tough man and coach, but he was fair. I learned a lot about life (from him)."
Stokes ranks his first Iron Bowl as his favorite.
"The top football game of my career was the Alabama/Auburn game my freshman year. I had a strong burn in my stomach when I was told I was going to be starting. It was like a dream come true. When you sign a scholarship and they pay for your education, I called Dan Wilbanks the day I signed and said come over here and get all of this stuff out of may house."
An Auburn 1983 schedule poster with Stokes leaping in the air adorned the wall at the East Tallassee Cafe for years after. "My brothers give me a hard time. They'll ask me sometimes if I can still get off the ground that high."
Tallassee's own and Auburn freshman Randy Stokes celebrates the Tigers' game-winning touchdown in the 1982 Iron Bowl that broke AU's nine-game losing streak. The image was used for the cover of the Tigers' 1983 Media Guide and '83 schedule poster that was prominently displayed at the East Tallassee Cafe.
Dan Wilbanks is the namesake to his father who also played for Tallassee and the University of Alabama.
Ronnie Baynes Day in 2015
"Danny tells the story," Baynes said of the patriarch of five Wilbanks boys who played football in Tallassee and are about as well know in sports lore as the Baynes and Stokes families. "He told all five of them, 'Now guys, y'all don't have to play football, but if you're going to eat at my table at night you're going to play football. All five of them played real well."
Now almost five decades since Ronnie's first visit to Tallassee, his kids and grandkids have suited up for the purple and gold. His grandson Brandon broke Tallassee's single-game rushing in 2014 on the football field ironically at Ronnie's 50th class reunion at Talladega. Tallassee won 40-6 as "BB" ran for 392 yards and scored four touchdowns.
"I'm sitting up there with all my classmates and they kick off and Brandon returned (it) for a touchdown. That kind of set the tone for Brandon playing in the old stadium where his granddad used to play."
1976 cheerleaders (front): Teresa Sides. Middle (left to right): Janet Dailey, Cam Murphy, Ardelia Baker, Mona Moncrief. Top (left to right): Theresa Brantley, Donna Gray, Cindy Golden.
Baynes was 33-47 overall in football at Tallassee. His biggest success came on the baseball side, where he would go on to win five state championships in 1986, '87, '89, '90 an '91.
Baynes on the diamond with a post-game talk
"When it came time for me to step aside in football, I didn't want to make the same mistake I had made when I left Selma and got out of coaching. I asked to keep baseball. I was officiating football (and) starting to work the big SEC games. My weekends were doing the game Friday night and driving all night Friday to some place or get up early Saturday morning. There were a lot of Friday nights I'd get maybe two or three hours sleep.
"Having transitioned from no football to just baseball was the little bit of bump we needed to go from being a good baseball program to a great baseball program. A sportswriter called it "Bootcamp Baseball." We played tough and played hard. It was my football background in baseball. The kids had a tough, mental attitude."
Baynes and Tom Jones in 1985
The runner-up finish in 1985 was what helped spearhead what would become a dynasty on the baseball diamond in Tallassee.
Celebrating another state title
"When we came in second, that set the tone and let us know there was something out there worthwhile we wanted to work for. When we won it in '86, and from that time on, it was like that's what we were expecting. The great thing about those baseball teams is they were playing together, not for personal gain, to win championships. We had a run that kids were playing for what the whole team could accomplish."
Baynes Tallasssee baseball record from 1975-92 was 249-103.
"One of the really good things we had in Tallassee was the opportunity to be involved in all levels," Baynes said. "It's so important to get everybody working on the same page. I got involved. I had kids involved. I was down there coaching. It was not unusual for me to coach high school practice, Little League and Babe Ruth."
Somehow during his career, Baynes handled the balancing act of school work, coaching, football officiating and family.
"When I came to Tallassee I explained that I was starting an officiating career. They asked if it was going to interfere with anything I did. I said not at all. They said go for it. It's one of the reasons why I came there."
Baynes officiating career began in 1971 at the high school level. In 1974 he moved to the Southeastern Conference. In 1987 he got his shot with the NFL.
The Baynes officiating fraternity in stripes (left to right): Rusty, Ronnie, Allen, Mark
"The officiating was something I did to supplement income. High school coaches didn't make a lot of money. I had a bunch of kids that wanted to drive cars and go to college.
"College football is something you kind of did for fun. The NFL is very much a job. It's a lot of pressure and expectations with high accountability. I liked both."
All three of Baynes' sons; Rusty, Mark and Allen, followed in their father's footsteps into officiating. The elder Baynes has also worked as Supervisor of Officials and Director of Scouting in the NFL. He lived in Manhattan during one period.
"I used to tell people that I lived in a town called Tallassee. There were more people in the apartment complex that I lived in at New York than in Tallassee. It was quite a change. Marie and I loved it. We lived there for seven years."
In 2011 the league presented him with the Art McNally Award at the Pro Bowl. He was inducted into the Alabama Sports Hall of Fame in 2013 and the Alabama Sports Officials Hall of Fame in 2019.
Tallassee's first baseball championship under Baynes in 1986
Ronnie Baynes passed the football torch after the 1981 season. His state championships in baseball had yet to come. The next five seasons would produce three different football coaches at Tallassee. That doesn't mean it was all bad. There were a few firsts - in a good way.
Marc Rice was hired to take over the program in 1982. The Tigers were just 1-9 in Baynes' final season and were on an eight-game losing streak when Rice arrived.
That streak came to a stop in Rice's first game with a season-opening win at Wetumpka 14-7. It appeared that things might be looking up, but Tallassee would win just one more game in '82 going 2-8.
Once again, THS ended the season on a losing streak - six straight. But things changed in 1983.
From the advent of the AHSAA playoff system with four classifications since 1966 (the first year excluded the 1A, 2A and 3A classes), no Tallassee team had advanced to the post-season.
From 1966-82, only five Tallassee teams had winning seasons. Ken "Tank" Mitchell's 1968 and '69 teams were 7-3 and 7-2-1 respectively. Ronnie Baynes' 1975 squad went 6-4. In '76 they were 8-2. In '78 the Tigers were 6-4.
The 1976 team's two defeats came against Lanett (27-0) and Stanhope Elmore (45-20). Lanett advanced to the playoffs as area champions with a perfect regular season under Dan Washburn.
In those days, only the region champion advanced to the playoffs. Two strong 8-2 teams were left out in Stanhope and Tallassee.
Here Come the Tigers! Tallassee takes the field for its semifinal game in Brewton on Nov. 30, 1984 vs. T.R. Miller
1983 would be the final year of the four-classification, region format. The next season, the classifications expanded to six and regions became areas. A rarity for Tallassee in '83 was an 11-game regular season schedule.
"Coach Rice didn't like having a bye week, so we added Benjamin Russell," quarterback Shane Yankey said. "He thought we needed to play more than we needed to rest."
It was a 180-degree turnaround from 1982 to '83. Tallassee went from two wins to 9-2-1 and made the playoffs for the first time in school history.
"I think a lot of it had to do with him coming in and putting in the wishbone," Yankey said. "We had some pieces of the puzzle in place. It didn't fit. The next year everybody had a year under their belt. We just had a better team. The offensive line was so much better, defensively too. We were young his first year. We came into our own my junior year. We had a good senior bunch of linemen; Rhett Dennis, Michael Fanning, Billy Moseley, Tom Wallace and Richard Rogers."
Dennis went on to play at Livingston College, now West Alabama.
Rhett Dennis at Livingston
"Remember the classifications back then were different. We were 3A," said Dennis. "If Valley had not beaten Lanett, we would been 9-1-1 and not even made the playoffs. That was probably the hardest classification Tallassee has ever had to compete in."
John Goodman remembers the grueling regimen that began in the preseason.
"It was tough every week," Goodman said. "We went through 18 days of two-a-days. We never went home. We were there from 6 in the morning to 8 at night. We started out with a whole bunch, but the time we got to the season it was whittled down pretty good. The season was 11 hard weeks. Then we made the playoffs.
"We had a senior-laden team. We went from one win, to two wins, to nine. Most of us seniors started coach Baynes last year and all the way through. By the time we were seniors we were ready to roll. The only thing we were missing was a quarterback. Shane came in and filled that spot, and he could throw."
Tallassee's only loss came to Lanett 12-3. The Tigers had a tie game at Auburn 20-20 that Goodman said could have turned out differently.
"I missed an extra point. I thought it was good. I missed one in my career and that was it. We were ahead the whole ball game. Over at Auburn, it was not like it is now. Everybody sat on one side. It was like 3/4 of the field was Tallassee and 1/4 was Auburn. We just took over the place. They battled back to tie us. That's what we say. They tied us. We didn't tie them."
Defensive coordinator Frank Autery said the tie was the only one in the state that season because new overtime rules were already in place.
"The officials left," he said. "They scored on the defense to tie the game. We ran a stunt and missed the tackle."
Goodman caught a ball late that would have given Tallassee a field goal chance to win, but the pass was ruled incomplete.
"I caught it. They said I didn't it."
Yankey recalled the play in the final minute.
Yankey (left) and John Wilbanks with Coach Rice
"(John) made the catch to get into field goal range. It was a catch," Yankey said. "John was a heck of a field goal kicker. We were well within his range. It wouldn't have been a long field goal."
As for the loss to Lanett, sometimes a team just has the other's number. That was the case in those days with Lanett vs. Tallassee. Lanett had won seven straight against the Tigers entering the late October contest in '83.
The Panthers entered the game with a 4-4 record. Tallassee was 7-0-1.
"It was just one of those games," Goodman recalled. "We were better than them at every position. We played like crap the whole ball game and basically gave it away."
From 1962-86, Lanett was 22-1 against Tallassee with the only loss coming in 1975 by a score of 7-0. Lanett leads the all-time series 39-22. The Tigers have not played their rivals from Chambers County since 2001.
Tallassee and Dadeville have played 66 times, second only to the Wetumpka series, which returns this season and has been played 67 times. The '83 Dadeville game was a shutout victory for Tallassee, 21-0.
"Wayne Keahey got me fired up," Autery said of Dadeville's head coach. "They put it in the Montgomery Advertiser. 'Country boys coming to whoop up on the city boys.' Wayne Keahey, look at that scoreboard. You didn't even pass the 50-yard line. He shouldn't have said that. Then we shut them out the next year."
Tallassee's biggest win in 1983 was against Stanhope Elmore. The 15-14 fourth quarter comeback against Stanhope Elmore at a jam-packed J. E. "Hot" O'Brien Stadium became one of Tallassee's most monumental victories. The game is known as the "Jo Jo get 'em off the goalposts game."
Solomon Rivers, the 1984 team MVP, pictured with Coach Frank Autery
"That game was epic," Dennis said. "It was far bigger than the win over Wetumpka (28-7). The Valley game was big when we beat them 17-7 in Valley that year. I don't remember much. I've taken too many hits to the head, but if I'm not mistaken the school buses stopped in downtown Tallassee in front of the police station and we had a party in the street."
The "Jo Jo" game - as it has become known - against Stanhope came into being through radio analyst Timm Timmerman. Timmerman and Jack Mitchell were calling the game on WTLS. After the Tigers' victory, Timmerman was concerned that students would take down the goalposts and yelled to Jo Jo Ledbetter to "get 'em off."
"That's one statement that will live with me forever. I guess if you've got to be famous for anything, you might as well be famous for that," Timmerman said. "It was an exciting night to say the least. I got a little bit carried away. It was definitely one of the top five ball games I've ever seen that a Tallassee team has been involved in. Stanhope had led pretty much the entire ball game. It was pretty much like Jack and I figured going into the ball game. Stanhope was a better team even though we won."
Goodman talked about the atmosphere at the stadium.
"It was magical. This is one of the biggest crowds I've ever seen at our stadium. They're ten deep around the track. They're three deep around the wall."
The Tigers not only had to win the game to punch their ticket to the post-season, they needed some help. Valley had to beat Lanett in the final regular season game.
At the end of the Stanhope/Tallassee game, a fight broke out between the two squads. That was when the word came down on the Lanett/Valley outcome from public address announcer Freddy Patterson.
"As it's going down you could hear Freddy on the loud speaker," said Goodman. "He announces the score of the Lanett game. Valley beats Lanett, so we go to the playoffs."
Valley won 34-20.
In Tallassee's wild finish with the Mustangs, Stanhope scored with under two minutes to play to tie the game at 14-14. Prior to their touchdown, Goodman spoke to Yankey on the sideline.
"I said if they're going to score, they need to go ahead and score. They've got to give us some time. There was 1:52 left. They gave us too much time. We come out in our two-minute offense. It's two wideouts and two wings. We run out routes. We start moving and clicking. We get it to the 20, catch one and get out of bounds. We call a timeout and move me to tight end. They change up what we're doing. I run a little out route. Shane hits me and we score."
Timmerman talked about the moment of decision when an extra point would tie the game but a two-point conversion would put Tallassee in front.
The '83 team during their 41-0 win over LaFayette
"Tallassee had no intention of getting into overtime. They decided to go for two," Timmerman added. "John Goodman, in probably the biggest catch of his entire life, caught a two-point conversion in the back side of the endzone. I don't see how they got the ball to him through the goalposts. It seemed that John was standing behind them. He got the one foot down."
As for the two-point play, coach Marc Rice had one.
"We practiced it every day," Goodman said. "That's one thing that coach Rice did. Coaching with coach (Mike) Battles and playing for coach Rice, they are a lot alike. They make sure that everything is covered. "We knew that we could do it. It was just going out there and executing it.
"Everybody had a spot. My job was to come in to the hashmark pylon. I set up on the back line by the goalpost. Shane rolled out to the right side. His first look was to the wing running down the goal line. The next was to the corner. I was the third look to the middle. On replay you can watch him. He looked off the other two and threw it back across to me. They say it was a little high. I don't remember that. I just remember catching it, coming down, making sure my toes were in the field of play and looking straight at the official to make sure the hands are up. Then it was celebration."
Even after Tallassee took the 15-14 lead, Goodman still felt that it might be too much time for Stanhope. There was still 52 seconds remaining. Plus, Goodman had spiked the ball and drew a penalty after the Tigers score.
"I made a mistake. We get a 15-yard penalty. I kicked it deep enough. Mark Gantt intercepts it with two seconds to go. Everything breaks loose. It's a free-for-all. They tackle Mark and start fighting on their sideline."
WTLS broadcaster Jack Mitchell turned his play-by-play of the game to the extracurricular activities and editorialized his feelings for Stanhope in the process.
"There's a fight," Mitchell said. "They have a Tallassee Tiger over there. It's breaking out all over the field. It's a melee. Stanhope had a Tallassee Tiger and about 12 were on him. They have no class. They've never had any class."
Officials ended the game although two seconds were still on the clock. Then the attempt to tear down the goalposts ensued.
"Absolute pandemonium set off. That's when I kind of went crazy," said Timmerman. "I wanted to go down and rip them off the goalposts myself. Jo Jo Ledbetter was sitting on the top of the press box helping the film crew. I tried to use him as my courier. About the time I yelled, Ray Sides entered the fray. He didn't have to hit them, but he did stop them."
Trey Taylor was among the ones attempting to tear down the goalposts.
"I put Ronald Wood up on one side. I was climbing up the middle. Mr. Ray tugs me by my leg and says, 'You need to get down.' Everybody was excited. The stadium was stacked up. Whoever won was going to the playoffs."
The 1983 Tigers
The 1983 squad climbed to No. 7 in the ASWA rankings that season and ended the year at No. 10. It was Tallassee's first time in the poll since 1961.
The Tigers traveled to Sylacauga for its first playoff game.
Goodman
"That was one of the coldest games I've ever been in," Goodman said. "They took our passing game totally away from us. They basically had two to three on us all night long. We relied on our running game. We came up just shy."
The Aggies won in overtime 20-14. Solomon Rivers was stopped just short of the goal line on Tallassee's final play of the game in the extra frame.
"We ran 48 to Solomon," said Yankey. "I could've bootlegged it. If I'd pulled that ball, I could've skipped into the endzone. Hindsight is 20/20. When the game is on the line you want the ball in your best guy's hands. He was our best running back."
Rivers thought he had scored.
"I got hit in the backfield and kept running," Rivers said. "I dive and half of my body was in the endzone, but the referee said I was short."
Goodman talked about the respect for the 1983 team and his fellow senior classmates.
"There were so many of us that put it on the line every game. Each was a leader in their own way. It made everything click. You were scared to mess up because you didn't want to disappoint the one that was next to you. How everything evolved was awesome."
Goodman continued his contribution to his alma mater in coaching. It began at first on the baseball diamond the year after his high school graduation.
"Coach Baynes broke his leg in the 1985 season. He was on the sideline telling me what to do. We went to the finals and played Wilson. I went down to Faulkner and made the team and played four years of college baseball."
Goodman succeeded Baynes in 1993 with Tallassee's baseball program winning state titles in 1995 and '98.
"It started in '85. Both of us were down in the youth leagues. The rules allowed that back then. We were getting everybody ready. My season would end early. I'd come back and help coach Baynes. I was there most of the time. I started full-time in '89. It was rolling."
A Solomon Rivers TD
After the 1983 season, Marc Rice left Tallassee for a job with Muscle Shoals. Yankey was one of the first to receive the news.
"I was at Auburn's football camp. Pat Dye called me into his office. Coach Rice told me personally before I heard it through the grapevine."
Rice spent nine seasons at Muscle Shoals putting together a 51-47 record from 1984-1992. His best year was in 1988 when the Trojans went 12-2. He coached three more years from 2003-05 at Shades Valley going 5-25.
Yankey believes the 1983 team might be the best to ever take the field at Tallassee, although the '84 team during his senior year had a semifinal run in the playoffs.
"We benefitted from going from four to six classifications," Yankey said. "The '83 team would've beaten the '84 team. The '83 team is probably the best team I've seen Tallassee have. You could put the '99 team up against it. Some would make the argument that the '99 team was better with a much better record and reaching the semifinals. If I was a betting man, I'd probably bet money on '83. The '83 team was just so big."
Rivers also commented on his junior and senior teams in '83 and '84.
"I think we had more talent," Rivers said of the 1983 season. "We had teams that could've (both) won state championships."
1984 squad on the sidelines
Autery said that the '83 team "built the foundation" for the successful run that was to come in 1984.
"They set the precedent. They came in, worked hard and dedicated themselves. They bought in to coach Rice's program," Autery noted. "They found that winning was good."
Steve McCord was hired in 1984. His previous two years were at Holtville with playoff appearances both seasons.
McCord, a product of Marbury High School, played college football at Troy State. He had a state championship under his belt, albeit in the state of Florida at Ernest Ward in 1979.
The '84 Tigers with a TD in the 28-0 win over Dadeville
"I knew Tallassee had some good talent returning," said McCord. "It was a little difficult coming in without a spring practice. We had some good skill players in Shane Yankey, Solomon Rivers, Earl Piner and Chris Vaught. We had some lineman that had played some with a little bit of size. I knew there was potential.
"Shane was a great quarterback probably one of the best I've ever coached. He was very smart and knew the offense better than I did. He knew when we had a good play called and could recognize when we didn't. He had a good arm and managed the game well."
Through the first half of the regular season, the Tigers were 2-3.
"We had some injuries early. We had four or five starters out," McCord added. "We struggled a little, but as the year went along we got healthy and got some momentum."
1983
1984
vs. Wetumpka
W
28-7
at Wetumpka
L
28-14
at Auburn
T
20-20
vs. Handley
L
34-20
vs. LaFayette
W
41-0
vs. Tuskegee Inst.
W
49-12
at Tuskegee Inst.
W
36-6
at Chilton County
W
21-19
at Valley
W
17-7
at Lanett
L
10-7
vs. Dadeville
W
21-0
at Reeltown
W
36-21
at Elmore County
W
34-3
vs. Elmore County
L
28-25 (OT)
at Holtville
W
28-13
vs. Beauregard
W
27-0
vs. Lanett
L
12-3
at Stanhope Elmore
L
27-21
at Benjamin Russell
W
35-21
at Dadeville
W
28-0
vs. Stanhope Elmore
W
15-14
vs. LaFayette
W
41-14
vs. Sylacauga
L
20-14 (OT)
vs. Handley
W
28-21
at Fayette County
W
28-7
at T.R. Miller
L
17-7
One of Tallassee's biggest wins was a last-second victory in Clanton, 21-19.
"We had to call a timeout. Some say there was 47 seconds left," Autery said of the time left matching the number of Solomon Rivers, the player that would score the touchdown to win it. "We drew a play up in the dirt. Solomon caught it with his broke (thumb) for the touchdown."
Rivers told of the injury.
"At practice when I'd catch the ball I'd go down to my knees because it was hurt so bad. I had no idea it was broke. (After) the Eclectic game I found out I had a broken thumb. The doctors said if I'd come to them sooner it would've healed pretty quickly, but they had to put two pins in. I played the rest of the year with two pins in my thumb. That was pretty painful."
"Solomon was tough," Autery added. "Dr. (Jimmy) Durden put a lot of casts on. We'd have to put pads all over it or they wouldn't let him play."
Trey Taylor was a senior lineman on the team and described the final sequence of plays in Clanton.
"It was 4th and 10 with 10 seconds. We had to pick up the first down," Taylor said. "John Wilbanks does a curl. Shane hits him right in the numbers. He goes out of bounds."
Then the Tigers had one final play which would go for a 29-yard score.
"We put Solomon as a wide receiver. Shane throws it and hits him stretched out into the end zone. You just feel the breath taken out of Chilton County."
Solomon Rivers with the fantastic finish in Clanton
Rivers elaborated on the final drive.
"It was :47 on the clock. That was my football number, so I felt good about that. I remember like it was yesterday," he said. "John Wilbanks made two outstanding catches. They didn't call my number the entire series. It was 7 seconds left and coach split me out wide. I remember streaking down the field. When I got past the defensive guy I looked up and saw the ball in the air. It was coming towards me but towards the middle of the field. I made a bee line to the ball and just caught it.
"A lot of people doubted that I caught the ball. I knew I caught it. What I didn't know was that I was in the endzone. A lot of people talk about that play. It comes up a lot. It was a good pass and good catch."
Pete Cottle wrote about the win in the "Dirty Digs" column of the Tallassee Tribune.
"Do you believe in miracles? Or fairy tales? Or happy ever after endings where the good guys win?
"If you were at Clanton Friday night, you do. A marvelously thrown spheroid from Shane Yankey to the magic man, Solomon Rivers, streaking into the end zone, covered by three men, on the last play of the game. 30 yard touchdown. Game over. We win.
"It was a game that will live in local folklore. As long as people go to Tallassee football games they will remember The Play, The Immaculate Reception."
Chris Vaught and James Bush in '84
A few weeks later, the Tigers faced Reeltown in the first ever meeting between the two schools. Tallassee won 36-21. As with many rivalries, the programs are intertwined with relationships. That was the case for THS assistant coach Frank Autery and his wife.
"Miss Jan graduated from Reeltown. That doesn't matter. It's just up the road. It's just another high school game," Autery said of the game that is to return this season after a 17-year absence from the gridiron. "I don't understand this, 'Battle of the Tallapoosa.' It's not Alabama/Auburn."
"Reeltown is the only game we filmed on 35 millimeter that was in color," Taylor said of the inaugural matchup played at O'Brien Stadium with the Tigers and Rebels. "That was kind of our coming out ball game. Everybody had such a good game. Solomon and Shane were being recruited.
Rivers remembered the stats for himself and fellow running back Earl Piner.
"Earl had a great game, 17 carries - 190 yards. I had 14 carries -170 yards, two touchdowns and an interception. A lot of people don't know it. That's the most carries I ever had in one game. In the wishbone everybody carried it. I really didn't carry it a whole lot of times, but pretty much when the game was on the line I was the go-to man."
Tallassee and Reeltown were tied 15-15 at halftime, but Tallassee pulled a way at the end.
"We ended the game on the 2-yard line," Taylor said. "We could've scored again. I was all for the fumblerooski. Let me run it in. The coach said don't score on them. Bruce Wilbanks said, 'Score! They're going to run it up next year.' The next year was 35-0 Reeltown."
Yankey said there was a debate between players before the final play.
"There was about to be a riot in the huddle. Everybody wanted to score and we were told to take a knee."
The 36-21 score was spraypainted on the train trestle near O'Daniel Bridge at Highway 229 after the THS win that season.
From 1984 (left to right): Shane Yankey, Mark Wilbanks, Chris Vaught, Bruce Wilbanks, Brad Mitchell, John Wilbanks
After a one and done in Tallassee's first playoff berth in '83, the '84 season would be different. Although the Tigers regular season record was just 5-5, they had been battle tested.
"We were way better than our record showed," Rivers said. "We lost a lot of close games. Toward the end of the year we showed what kind of talent we had. We were close knit. Once we got healthy, everything fell in place."
McCord talked about the team getting hot at the right time and the backing of the fans that came with it.
"We got on a roll going into the playoffs. Tallassee's always been a great supporter of their athletic programs. We had great followings whether we were on the road or at home, also winning or struggling. I remember particularly in the playoffs, it seemed like each week our fan base got larger. They traveled well."
The town got behind their team in what was coined the "I Believe" season. Storefronts were decorated in purple and gold. Another battle cry for Tiger fans was "Win for Willie" in honor of Willie Hayden, a student who would succumb to cancer.
Craig Vaught remembers cheering for the Tigers and his older brother Chris that season.
"The whole time the games were being played, the crowd would be standing up almost the entirety of the game chanting, 'We Believe.'"
Mid '80s practice
After a 41-14 beatdown of LaFayette at home in the first round, the Tigers faced Handley just as they did in the second week of the season at O'Brien Stadium.
Handley beat Tallassee 34-20 in week two. In round two, the tables turned with a 28-21 THS win.
"They gave us no respect whatsoever," said Autery. "I had ten games of their film. If the right guard wanted to blow his nose or the quarterback had to scratch his ear, I knew exactly what they were fixing to do.
"We called timeout one time and they had 4th and about a yard to go. I said, 'Watch them. They're going to run 47.' That's the power out of the wishbone off the left side. The quarterback's going to look left. It's a tendency that he had. The stud halfback is going to get the ball. We moved into a 4-4 defense. I don't know if it was (Chris) Vaught or (Brad) Mitchell, met the fellow in the backfield and took him two yards back. They didn't get nothing. That was it."
Autery said part of the reason for the deep playoff run was changing some tendencies that Tallassee had earlier in the season.
"We got together as coaches and changed a lot of stuff," he said.
Tallassee advanced to the quarterfinals with the Handley win and then hit the road for Fayette County. It was the day after Thanksgiving, Nov. 23. Boston College had beaten Miami earlier in the day, in the now famous "Hail Flutie" game.
"It was sub-freezing," said McCord. "I remember when we got there and started warming up you could already see the frost on the grass."
The game was not close. Tallassee won 28-7 setting up a semifinal trip to Brewton.
"That night Tallassee and T.R. Miller were playing for the state championship," assistant coach Frank Autery said. "Those were the two best teams in the state in 4A."
Steve McCord (left) and assistant coach Willie Daniel
McCord talked more about the matchup.
"We went into the game a little bit banged up. Our fullback Earl Piner didn't get to play. He had a thigh bruise the week before. That hurt us. We didn't have the inside game we normally had with him."
The homestanding Tigers beat Tallassee 17-7.
"If you look at the stats against T.R. Miller, statisically we killed them," Rivers said. "We really beat ourselves. We had four turnovers. One was on the two-yard line. We had a blocked punt inside the 20."
McCord also talked about what might have been.
"We had some unfortunate mistakes. We dropped a touchdown pass. We fumbled once down close that kept us from scoring. We just had some things go wrong at bad times.
"T.R. Miller had a good team that year and went on to win it. They beat Cherokee County for the championship. We felt like going in that whoever came out the winner would probably be the state champion. That was our state championship shot. We hated to see it end there because we were so close, but T.R. Miller was a very good team. It's just a shame that we didn't go on that week and try to wrap it up."
Ticket stub from playoff game with Tallassee vs. T.R. Miller in Brewton
Pete Cottle offered his commentary on the '84 Tigers' season finale in his "Dirty Digs" column of the Tallassee Tribune.
"On a foggy night in Brewton land the dream died.
"The impromptu gathering of several hundred Tiger fans on the field for the 'spirit line' before the game was chill-bumpy.
"The great mass of Tallassee fans who made the long trip almost to the Florida line was an awesome tribute to the team and to the fans themselves. We had almost as many there as they did.
"The incompetence of the referees and the timekeeper was shocking and insulting.
"I still believe! I believe that this group of boys got more out of themselves than any team I can remember.
"A last tribute to Solomon Rivers. You are the best I've seen, my friend. The very best."
As for being the best to ever put on a Tallassee uniform, Solomon's cousin Alfred, a former THS running back himself, thinks so.
"Solomon is the best football player I've seen play at Tallassee without a question," Alfred said. "(He) could do it all. Anyone who replaces their face mask two times a year and cracks their helmet is a beast. Unreal. He gave punishment like that on offense and defense."
What does Solomon think of those type of remarks?
"When people say I was one of the best, Tallassee had a lot of outstanding running backs," he said. "I think I was one of the best of my era. The only difference I see with me and a lot of other players is I probably led in a lot of other categories. I was the leading rusher. I think I was one of our best receivers. I was the leading tackler and did kickoff and punt returns. I did it all."
Taylor talked about Rivers' versatility as an all-purpose talent.
"On defense he was our safety valve. If you got by Solomon you were going to score. You didn't get past him. As for an all-around athlete, (it's) Solomon Rivers. He never came out of the ball game. It shows the stamina and the man he was."
Rivers and Yankey both attended Jacksonville State on football scholarships.
"They called us the "Tallassee Flash." Thanks to Shane riding up there, he got me into country music."
Solomon Rivers goes airborne against T.R. Miller
After only one season, McCord opted to take the head coaching job at Marbury, his alma mater.
"Looking back, it was my mistake. I should've stayed."
McCord coached seven years at Marbury but got the opportunity to return to Tallassee in 1994 and did.
"The situation was similar, but we weren't quite as talented as in '84. In '96 we made it to the second round of the playoffs."
After '96, McCord would depart again - this time for Jemison.
"I had some regrets about leaving again, but it's just part of life. Maybe things would've been different with my career if I had stayed and finished up there."
Since the 1984 semifinal run, Tallassee has reached the fourth round again just once - in 1999. The opponent in the '99 semi was Jemison, coached by McCord. The Panthers ended Tallassee's perfect season 28-14 in front of a capacity crowd at J. E. "Hot" O'Brien Stadium.
McCord works with senior quarterback Shane Yankey in 1984
"We just had a good night. I thought it was our best night. People ask me if it was some kind of sweet revenge. It had nothing to do with that. It was just another game for me. I really respected the people in Tallassee and the players. It was quite an experience to have that many people there. It was a huge crowd. Everybody was extremely pumped. It was very noisy, the way it should be in high school football."
McCord had four more head coaching gigs before retiring in 2016.
One of McCord's assistants, Billy Beck, took over the program in 1985. His stint would last just two years.
The Tigers went 1-10 and 2-8 the next two seasons. The one-win team made the playoffs.
"1-9 and made the state playoffs," Autery quipped. "That's great ain't it?"
One of the quirks of area play is that with two teams advancing in three-team areas, sometimes the two representatives lack the resumes. In other cases, very good 8-2 teams have been left out of the post-season.
Tallassee's 1985 team beat Beauregard 31-18 to win the Class 4A/Area 5 runner-up spot. Dadeville won the area with a 4-7 record beating Tallassee 6-0 in the regular season finale. The Tigers lost at Lanett in the first round of the post-season 37-7.
"We got slaughtered," Autery added.
The Tigers went 2-8 in '86 with wins coming against rival Elmore County 24-15 and Beauregard again, 43-0.
Beck would be replaced by longtime assistant Woody Weaver the next year. Beck became Holtville's head coach in 1990. He spent four years there with more success than he could muster at THS reaching the playoffs three times. His 1993 went 9-3.
Billy Beck works with his team