Spring Vaccination Clinic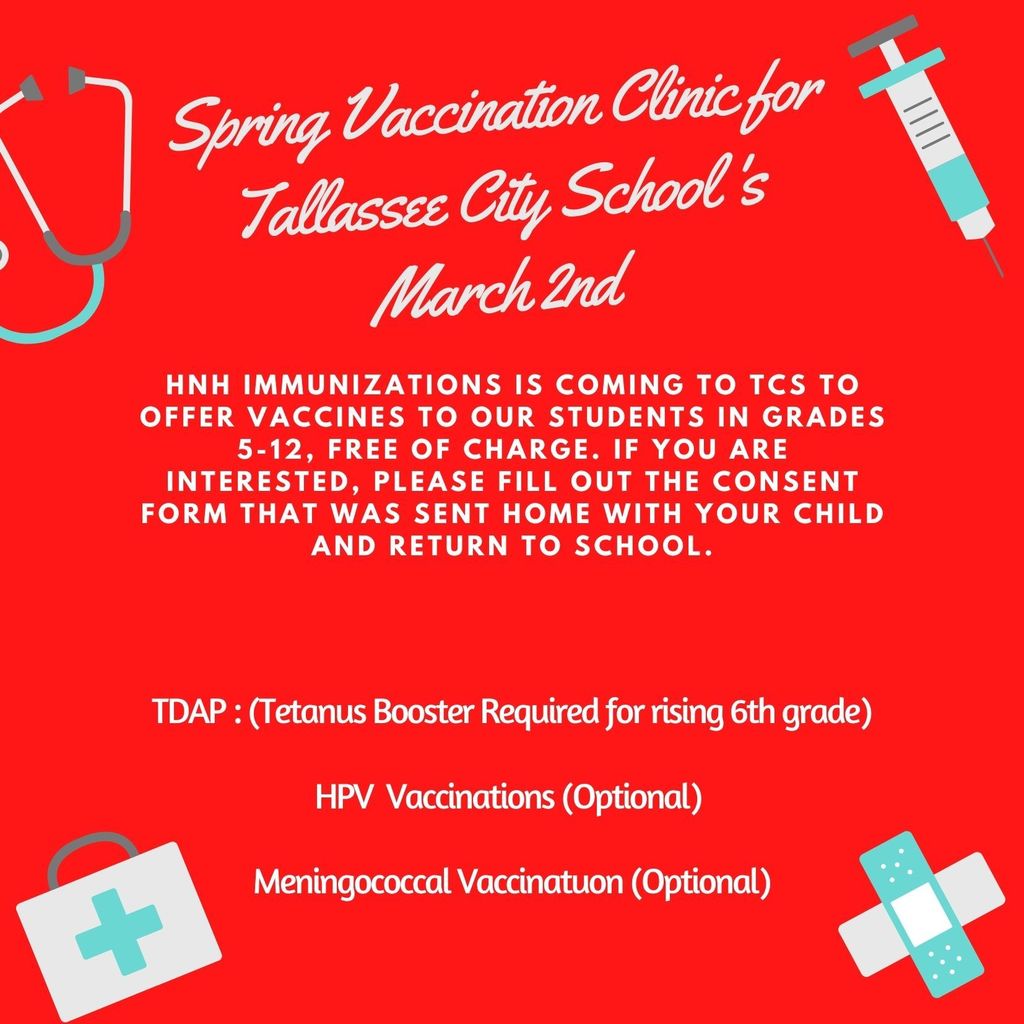 The Tallassee City Board of Education appoints Dr. Steve Burak to fill its vacant District 7 position. Dr. Burak brings years of previous board of education experience to the position. Welcome back Dr. Burak!

HNH Immunizations, the company that provides our flu vaccines, will hold a vaccine clinic at SMS on March 2, 2021. They will be offering, free of charge, TDaP (Tetanus booster required at age 11 and before 6th grade), MCV (Meningococcal), and HPV-cancer prevention. Although TDaP is required for 6th grade, you are NOT required to get the vaccine from the school. You can always choose to get this done at your child's physician's office. The MCV and HPV vaccines are optional. Consent forms went home last week with the face-to-face students. If your child is virtual and you are interested, please reach out to the nurse and a consent form can be sent to you. Your child will NOT be able to participate unless the consent form is filled out and turned in to the school nurse. If you have any question about whether your student has had these vaccines or not, or for any other questions, please reach out to the school nurse.
jennifer.osborne@tcschools.com
or call 334-283-2151 and ask for the nurse.
North EB Payne is closed due to water line issues this morning. Please use Comer Ln to access EB Payne and Southside Middle School this morning. See map attached.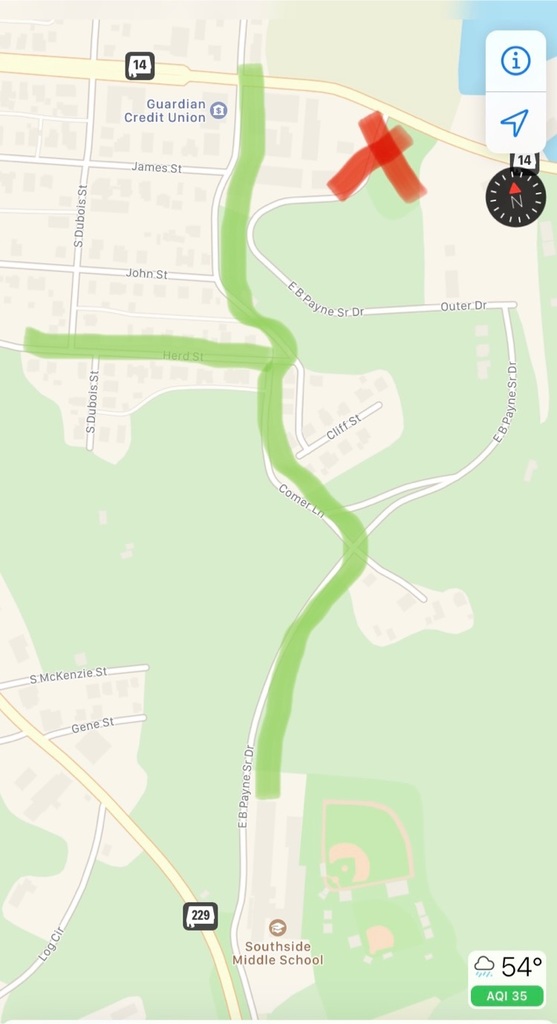 Tallassee men's basketball advances in post season play by defeating Talladega 86-80!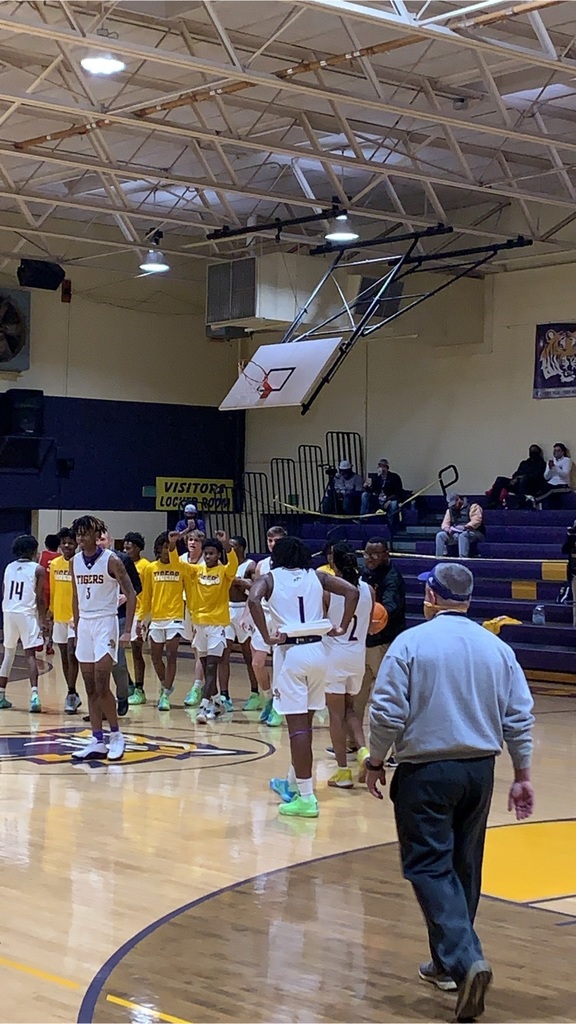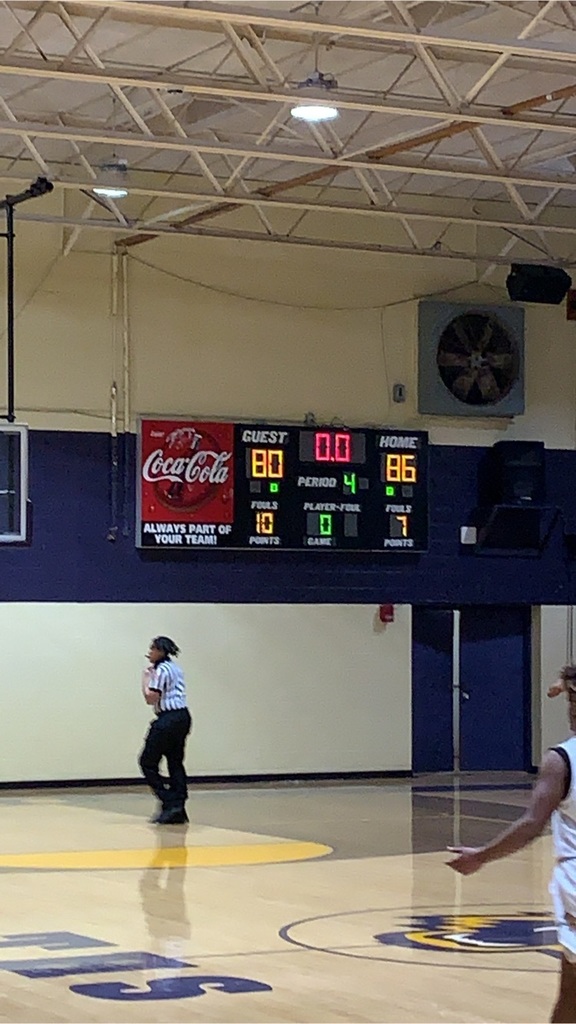 In light of reduced cases and the vaccination of many staff members, TCS will shorten the A/B rotation by one week. Our rotation will end this Thursday, Feb. 18th. All students will be virtual this Friday (Feb. 19th) for a cleaning of all facilities and final vaccinations to be administered to TCS staff. ALL students opting for face-to-face instruction, this nine week term, will return to their classrooms Monday, Feb. 22nd. The district will continue to monitor cases and make adjustments as needed.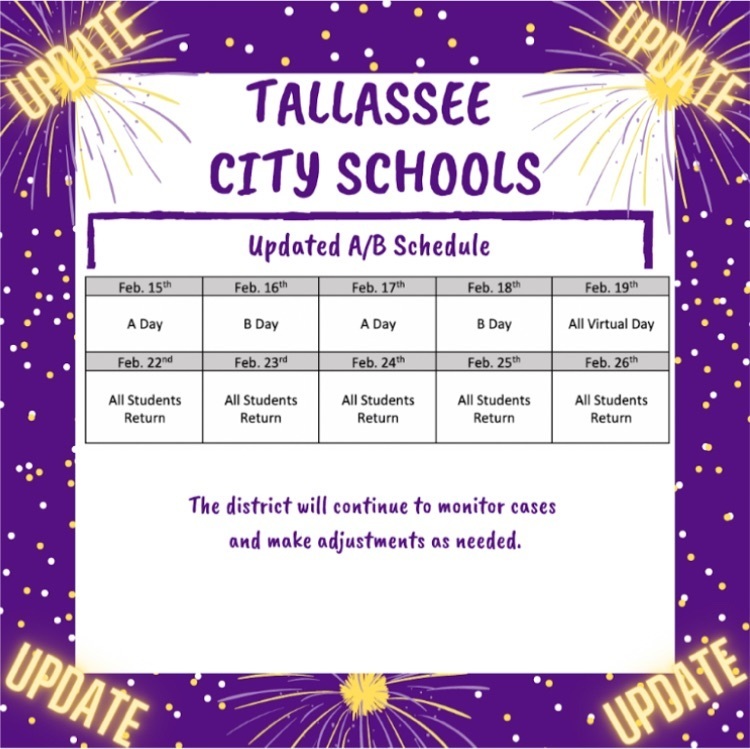 All SMS spring sports tickets will be sold on GoFan only. There will be no tickets sold at the gate. Visit our SMS website to view the home schedules and to purchase GoFan tickets for home SMS baseball and softball games.
Due to Covid concerns, the THS wrestling team will not participate at Stanhope this weekend. Look for information about practices and matches next week from Coaches Mask and Cook.
Parents, with a rise in Covid-19 cases in our community, TCS will excuse any student who chooses not to attend in-person through Friday. Please email your child's teacher and let them know if he/she will not be attending in-person. Your school's administration/teachers will be in contact regarding virtual assignments. SMS and TES will remain open for those that want to attend in-person through Friday. Dec. 21-22 will be virtual for all students.
New update from the Alabama Dept of Public Health. While the ideal length of quarantine continues to be 14 days after last exposure, If 14 days of quarantine is not practical, 10 days is acceptable. This means if you are without symptoms you can return to normal activity on day 11 only if you continue to Closely Monitor for symptoms. If you have symptoms, isolate and seek medical attention

SMS TOP SELLER FOR FUNDRAISER CONGRATULATIONS ADYSON!


Southside Middle School Canned Food Drive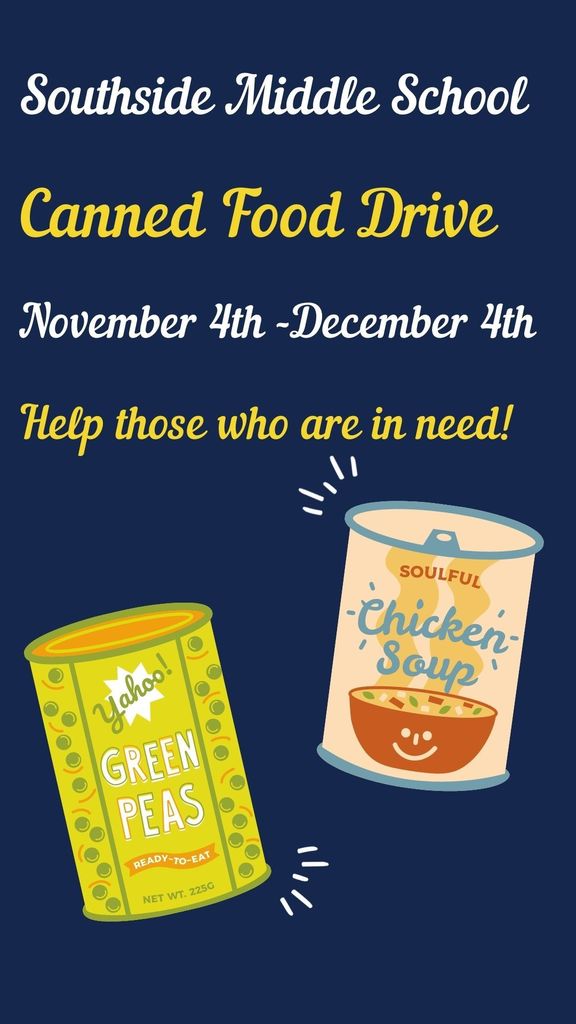 SMS Fundraiser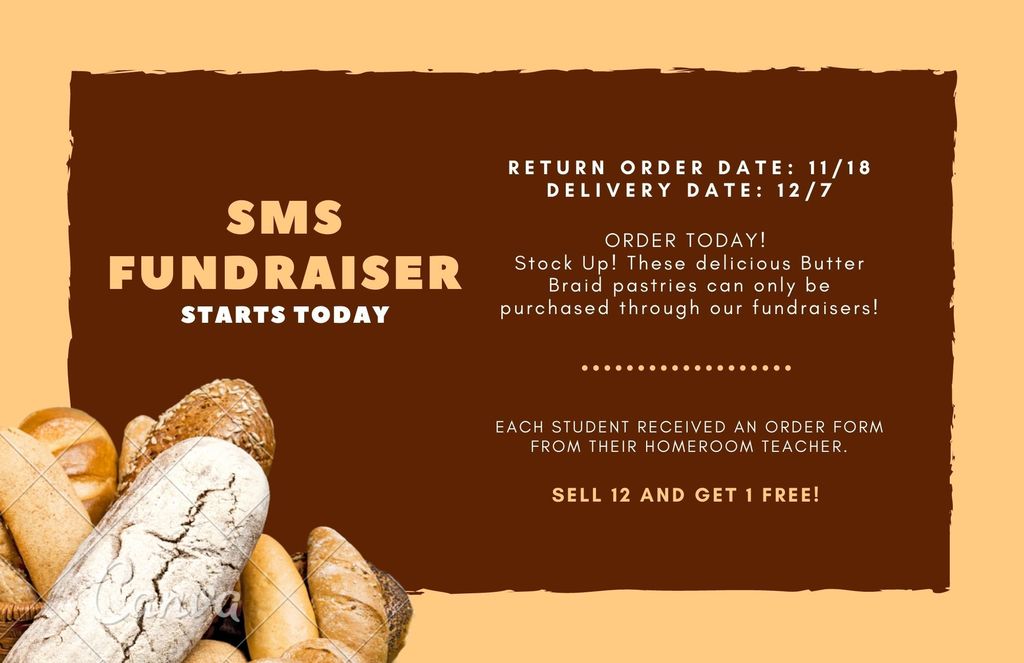 We will be out of school tomorrow, Oct 29th, due to the possibility of inclement weather coming through in the early morning hours. EMA is anticipating strong winds which may cause downed limbs and power lines. We will be back on our homecoming schedule on Friday. We will continue our afterschool activities for today and have a normal release time. Please prepare for the storm event and stay safe.

Homecoming/Red Ribbon Week

Parent Meeting For Girls Basketball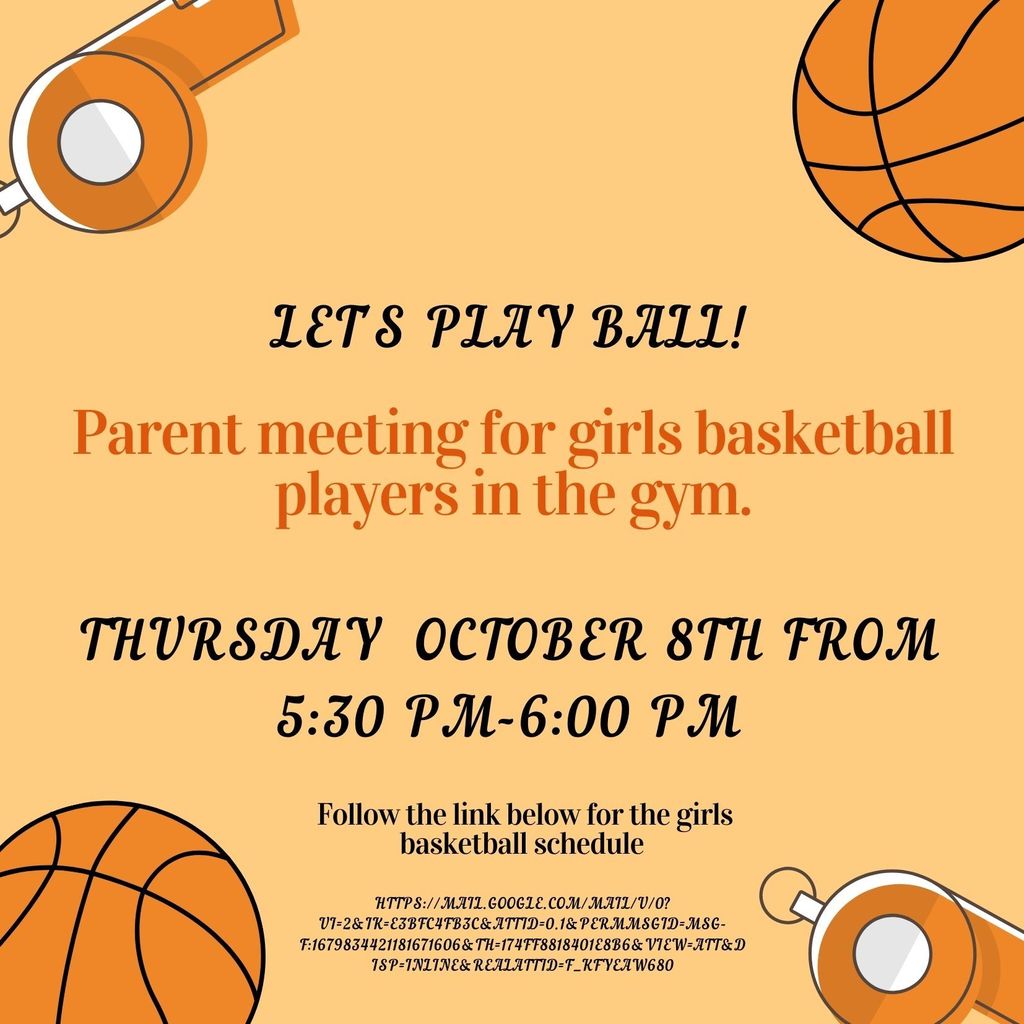 Fall Pictures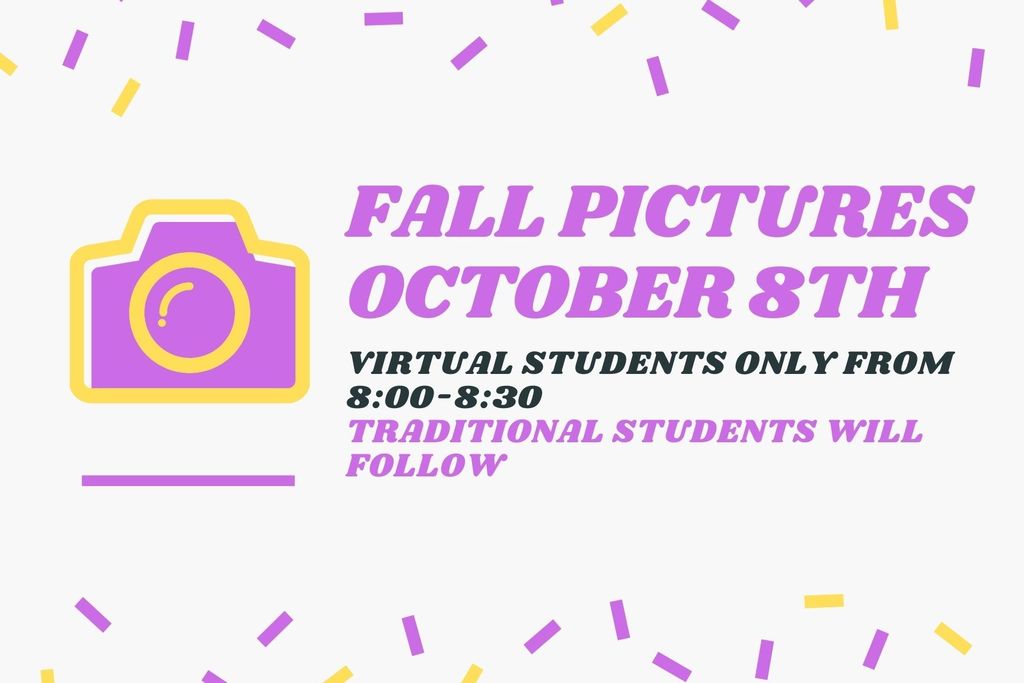 SMS GIRLS BASKETBALL TRYOUTS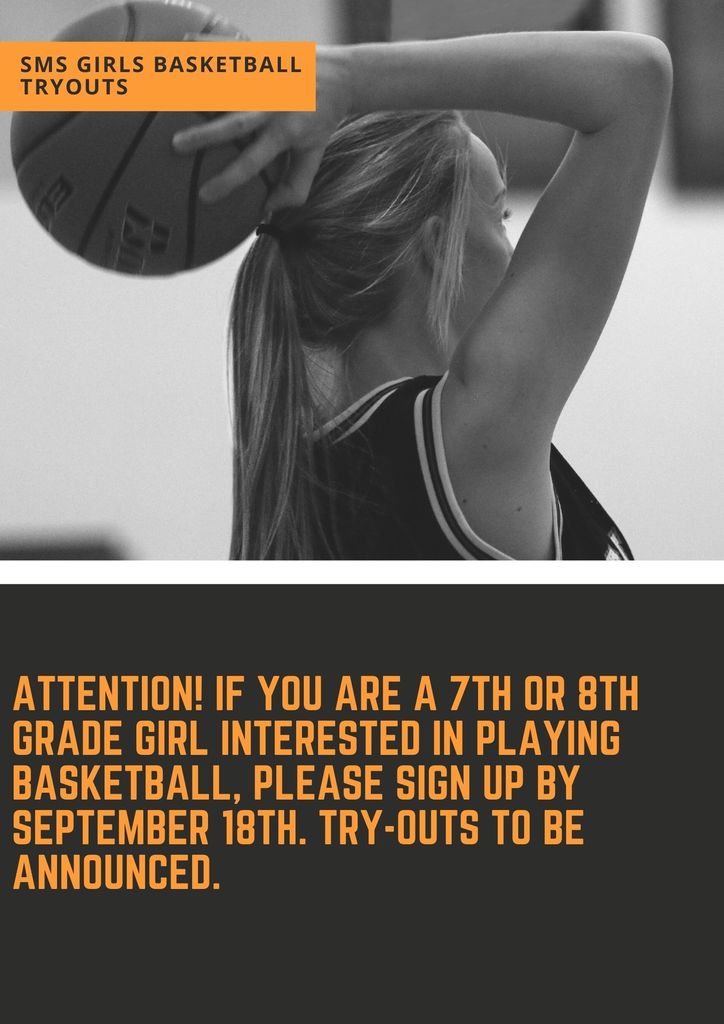 SMS BOYS BASKETBALL TRYOUTS